22 November, 2016
Committee Examines Lifting of Compensation Amount for Electric Power Utilities' Unlimited Liability
On November 16, the 15th meeting was held of a special committee of the Japan Atomic Energy Commission (JAEC), looking into the issue of Japan's nuclear damage compensation system.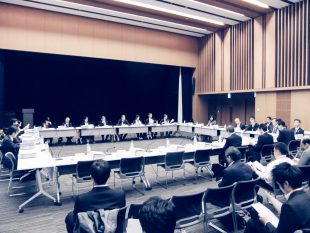 If the current system of unlimited liability is maintained—with no upper limit established for the compensation burden on electric power utilities—it has been pointed out that the maximum sum for compensation measures, now set at JPY120 billion (USD1.08 billion at USD1=JPY110.56), needs to be raised. The development of the specific system for that will be thrashed out at the next meeting and thereafter.
The current system requires the power utilities to take out insurance, with the maximum amount of capital set aside for the compensation set at JPY120 billion (USD1.08 billion). However, given that the amount of compensation has already reached around six trillion yen (USD54.2 billion) in the case of the March 2011 accident at the Fukushima Daiichi Nuclear Power Plants of the Tokyo Electric Power Co. (TEPCO), it is clear that those preparations are insufficient.
Japan's electric power industry has called for limited liability, in which the national government would be responsible for any compensation payments above a certain level. However, it was determined that unless a power utility causing an accident maintains total responsibility to the end, it would be difficult to gain the understanding of the local residents in the vicinity as well as that of the whole nation.
Under Japan's nuclear damage compensation law, nuclear power operators are responsible for the entire amount of compensation to an unlimited extent, no matter whether they have been negligent or not, except in cases of massive natural disasters. The accident at the Fukushima Daiichi was not classified as a "massive natural disaster" by the ruling Democratic Party at the time, causing TEPCO to bear indemnity liability, and forcing it into effective nationalization.