4 November, 2015
Fukushima Cleanup by School Youth Met With Threatening Calls and Emails
It has been learned that a nonprofit organization (NPO) involved in planning a cleanup event by local junior and high school students along Japan's Route 6 in the coastal area of Fukushima Prefecture, site of the accident-damaged Fukushima Daiichi Nuclear Power Plants, has been the recipient of threatening and defamatory phone calls, as well as similar fax and e-mail messages. They have described the NPO's activities as "murder-like" and "nothing less than madness," among other comments.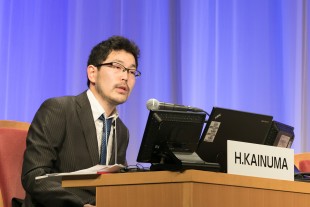 On October 10, approximately 1,400 people, including about 200 students, took part in a cleanup event planned by the NPO along a 50-km stretch of the Route 6, which runs through eight municipalities, although not the towns of Futaba and Okuma, where the Fukushima Daiichi is located.
Adults performed the cleanups in evacuated areas and in Naraha Town, where an evacuation order was lifted only two months ago. Elsewhere, students collected litter with tongs, particularly in school zones. The NPO measured the radiation exposure doses of the participating students, finding them to be zero.
Regular cleanup activities began in 2007, based on an idea proposed originally by several high school students. They were suspended in the wake of the earthquake and nuclear accident, and only resumed this year. The messages began coming in mid-September, when the NPO called for participation in the event through website.
Some 30 messages have come in per day on average. Examples include the following: "This is child abuse in the name of a good deed"; "Are you a traitor?" and "We will kill you." On the cleanup day, opponents also gathered, measuring the radiation themselves, and attempting to dissuade the students.
Hiroshi Kainuma, a sociologist from Iwaki City, Fukushima Prefecture, noted, "Since the nuclear accident (of 2011), incidents have increased of people seeking to hinder the freedom of activities that would aid the victims. That is because those who want to be 'on the side of right and justice' have escalated their thinking."
He strongly accused them, however, saying, "With flimsy scientific grounds, their acts force socially vulnerable people into circumstances where they cannot offer counterarguments. We should deal with such acts consciously."