6 March, 2015
Fukushima Daini: TEPCO Begins Transfer of Fuel to Spent Fuel Pool
On February 27, the Tokyo Electric Power Co., Inc. (TEPCO) began transferring reactor fuel from Unit 2 at its Fukushima Daini Nuclear Power Station to a spent fuel pool, having completed work to open the upper part of the reactor.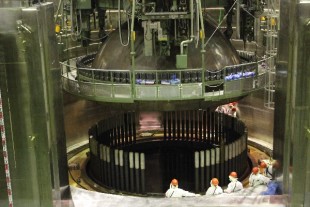 In its work, the power company successively removed a concrete hatch cover, the lid of the containment vessel, the lid of the reactor pressure vessel, a steam dryer and a steam separator, confirming their safety and inspecting them for any problems.
One of the problems found was a broken bolt among the 24 bolts holding a cover protecting the pressure vessel bellows. None of the discoveries, however, were found to be affecting the soundness of the equipment or facilities.