16 July, 2015
Ikata-3 Clears Compatibility Examination for New Regulatory Standards
On July 15, the Nuclear Regulation Authority (NRA), which had conducted an examination of the Ikata-3 Nuclear Power Plant (PWR, 890MWe), owned and operated by the Shikoku Electric Power Co., to confirm its compatibility with the new regulatory standards, approved the company's request to change a reactor installation (basic design approval).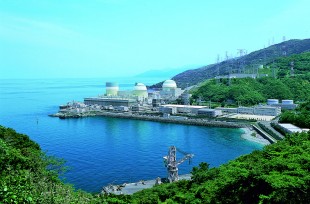 This is the third such approval, following those for the Sendai-1 and -2 (PWRs, 890MWe each), owned and operated by the Kyushu Electric Power Co., and the Takahama-3 and -4 (PWRs, 870MWe each), owned and operated by the Kansai Electric Power Co., bringing the number of approved NPPs to five since the new regulatory standards went into effect on July 8, 2013.
The NRA had prepared a review report draft for the Ikata-3 on May 20. It then heard from the Japan Atomic Energy Commission (JAEC) and the Ministry of Economy, Trade and Industry (METI) as required by the Law for the Regulation of Nuclear Source Material, Nuclear Fuel Material and Reactors (the Reactor Regulation Law), and made the draft available to the public for comments.
Taking everything into consideration, the NRA decided to approve a change in the reactor installation (it means basic design) for Ikata-3 at its regular meeting on July 15.