16 August, 2016
Ikata-3 is Connected to the Grid
On August 15, the Shikoku Electric Power Co. reconnected its Ikata-3 Nuclear Power Plant (PWR, 890MWe) to the grid. The unit had been restarted on the 12th and the plan is to return it to commercial service as early as September 7. Operation of the Ikata-3 resumes five years and three months after it was shut down for a periodic inspection in April 2011.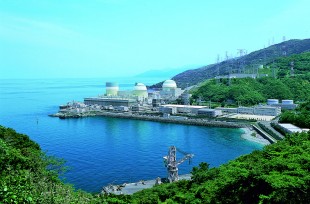 Faced with deficits after the reactor was taken out of service in 2011, Shikoku Electric Power increased its power rates by 14.72% for industries and 7.8% for households in the summer of 2013. Asked about lowering them now based on the restarting of Unit 3, President Hayato Saeki said this could not he expected in the near future. Referring to the current severe business environment, he said, "Our situation does not allow us to lower power rates immediately."
When power rates were raised in 2013, eventual restarting of Ikata-3 was already factored in. Meanwhile, the business environment has been severe, with repairs to aging thermal-power facilities postponed, and the need for investments in safety measures. There are three reactors at the Ikata nuclear site. Last May, however, Unit 1, the oldest of the three, which had been in service for about 40 years since its start of commercial operations, was designated by the company for decommissioning, in light of expected escalating costs for safety measures due to its older design. Regarding Unit 2, the future of which has not been decided, President Saeki said that the company basically wants to use it efficiently. He indicated it would begin serious consideration of restarting Unit 2 from both technological and economic viewpoints as soon as Unit 3 returns to commercial operation.