9 August, 2016
Ikata-3 to be Restarted on August 12
On August 5, the Shikoku Electric Power Co. reported to the Nuclear Regulation Authority (NRA) that it would restart its Ikata-3 Nuclear Power Plant (PWR, 890MWe) in Ikata Town, Ehime Prefecture, on August 12 – the first time the reactor will have been operated since April 2011.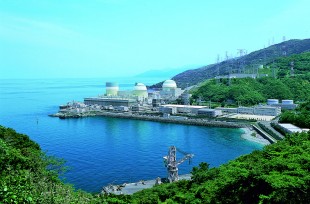 As a result, the company's operating profit is expected to improve by approximately JPY10 billion (USD98 million at USD1 = JPY102) in the fiscal year ending March 2017.
Ikata-3 will be the fifth NPP restarted under the new regulatory standards introduced in 2013, following the Sendai-1 and -2 NPPs, owned and operated by the Kyushu Electric Power Co., in Kagoshima Prefecture, and the Takahama-3 and -4 NPPs, owned and operated by the Kansai Electric Power Co., in Fukui Prefecture. The latter two NPPs are currently shut down because of temporary injunctions issued against their operation.
Shikoku Electric Power initially planned to restart the Ikata-3 reactor at the end of July, but, due to a problem with a pump circulating primary coolant, this was delayed. If everything goes well, the utility will start up the reactor in the morning on August 12. On the 13th, the reactor will achieve criticality and it will reconnect to the grid on the 15th. The return to commercial operation is then expected in early September.