27 December, 2017
Kashiwazaki Kariwa 6 & 7 Clear Safety Examinations, First BWRs
On December 27, the Nuclear Regulation Authority (NRA) of Japan finalized review reports on the Kashiwazaki Kariwa-6 and -7 Nuclear Power Plants (ABWRs, 1356 MWe each), owned by the Tokyo Electric Power Co. (TEPCO), in Niigata Prefecture.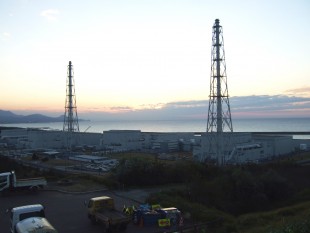 The review reports were issued on October 4 and officially approved following periods for public comments. The units are the first BWRs determined to meet the new regulatory standards. In total, 14 NPPs now have. The others are Mihama 3, Takahama 1 through 4, and Ohi 3 and 4, all owned by the Kansai Electric Power Co. (Kansai EP); Ikata 3, owned by the Shikoku Electric Power Co.; and Genkai 3 and 4, and Sendai 1 and 2, owned by the Kyushu Electric Power Co.
In the examinations of Kashiwazaki Kariwa 6 and 7, applications for which were filed in September 2013, there had been difficulty in determining standard ground motion (Ss). In addition, there was a focus on the eligibility of TEPCO itself as an operator – that is, whether it was fit to install plants and operate them – as the party responsible for the Fukushima Daiichi accident.
Units 6 and 7 were shut down for periodic inspections in March 2012 and August 2011, respectively. Governor Ryuichi Yoneyama of Niigata Prefecture, where the units are located, has shown a cautious attitude toward restarts hereafter. He will not discuss restarts unless the cause of the Fukushima Daiichi accident, the effects of nuclear accidents on the human body and daily living, and the adequacy of evacuation plans in case of a nuclear accident are fully verified.
Upon finalization of the review reports, TEPCO released comments to the effect that it would continue endeavoring on the reconstruction of Fukushima, on the decommissioning of the Fukushima Daiichi NPPs, and on compensating for damage, and that it would "work on endless activities to improve nuclear safety and ensure the safety and reliability of the Kashiwazaki Kariwa NPPs." Regarding the three issues on which Niigata is pursuing verification, TEPCO said it would respond to the prefecture with its full efforts.