18 October, 2016
Message from JAIF President Takahashi: Current State of Radiation Education in Japan
On October 13, President Akio Takahashi of the Japan Atomic Industrial Forum (JAIF) released a message and conducted a press briefing.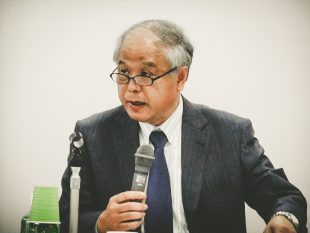 In 2008, the Ministry of Education, Culture, Sports, Science and Technology (MEXT) returned the topic of radiation—which had not been in the curricula of Japanese junior high schools since 1980—to its official course of study guidelines. Teachers around the country began teaching it in fiscal 2012 (April 2012 to March 2013) after a hiatus of more than thirty years.
At the recent briefing, the JAIF president explained MEXT's activities related to radiation education, including the publication of a side reader on the subject for students in elementary, junior high and high schools. He also talked about what other related parties were doing, such as the All Japan Junior-High School Science Education Research Group, the Fukushima Prefectural Board of Education, and the Atomic Energy Society of Japan's Education Committee, as well as electric power companies and manufacturers.
He also identified two issues of concern, the first being that young teachers have not themselves studied radiation in school. Also, he pointed out that it was not easy for schools to obtain radiation detectors or experimental materials for cloud chamber observations.
President Takahashi emphasized that JAIF would continue to support the efforts of the Japan Atomic Energy Agency (JAEA) to make experimental materials available. He also added that his organization would continue to disseminate information on training and seminars for teachers, supporting them in their efforts by arranging seminars at research reactors and other similar activities.
In a Q&A session with reporters at the briefing, he praised everyone involved at the Kyushu Electric Power Co. with its Sendai-1 Nuclear Power Plant (PWR, 890MWe), where a periodic inspection is currently underway. He said that the reactor—the first to be restarted nationwide after the stricter post-Fukushima regulatory standards were applied—were operating and being maintained both smoothly and safely amidst the intense media focus.
In response to a reporter's query about the global situation for fast breeder reactors (FBRs), meanwhile, President Takahashi said that Russia was sufficiently experienced, having begun operating an FBR in the 1980s, adding that the country's BN-800 fast demonstration reactor (864MWe) —Unit 4 of the Beloyarsk NPP in the Sverdlovsk district—had already begun to generate electricity, and was connected to that country's national power grid last December.