17 November, 2016
NRA Approves Extension of Operating Lifetime for Mihama-3 through 2036
On November 16, Japan's Nuclear Regulation Authority (NRA) officially approved an extension of the operating lifetime of the Mihama-3 Nuclear Power Plant (PWR, 826MWe), owned and operated by the Kansai Electric Power Co. (Kansai EP), in Mihama Town, Fukui Prefecture. The unit will soon mark forty years since first entering service in 1976.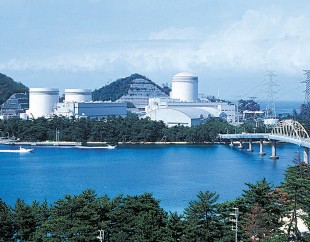 Following the accident at the Fukushima Daiichi Nuclear Power Plants, owned by the Tokyo Electric Power Co. (TEPCO), operation of NPPs in Japan has been limited in principle to forty years, which can be extended by a maximum of twenty years upon application and approval. Kansai EP will now implement fire-prevention measures, work to improve seismic safety at Mihama-3, hoping to resume operation there in the spring of 2020 or later.
This is the second instance of an operating extension being approved by the NRA for so-called "aging reactors" nearing forty years of service. The first was the extension granted to the Takahama-1 and -2 NPPs, also owned and operated by Kansai EP.
At a regular meeting on November 16, the NRA finalized a review report for Mihama-3 that is effectively an approval of the extension, after examinations of the effects of deterioration and other items. The reactor will thus be allowed to operate until the end of November 2036, some sixty years since operation began.
With approval of the extension, the power utility will carry out work on safety measures, including making about a thousand kilometers of cables more fire-resistant and conducting seismic retrofitting for safety-related systems and equipment. It will spend a total of JPY165 billion (USD1.5 billion at USD1=JPY110) for the work, which is expected to be completed in March 2020, after which the actual restart will occur.
To extend operations at an aging reactor in Japan, three procedures are required. First, a safety examination must be carried out for compliance with the new regulatory standards introduced by the NRA in 2013. Second, a construction plan must be confirmed describing detailed designs of facilities and equipment. Finally, an "extension examination" must be conducted on the effects of age deterioration.
After conducting a voluntary special inspection of the state of the reactor's deterioration, Kansai EP filed an application in November 2015 with the NRA for an extension of the operating lifetime. That organization then considered whether important safety-related systems and equipment could perform for the extended period.
Because the new regulatory standards raised the assumed maximum shaking (standard ground motion) in earthquakes, the safety examination focused on the seismic safety of such systems and equipment at Mihama-3. Satisfied that the company's basic policy on safety measures met the standards, the NRA determined in October 2016 that the unit had cleared the safety examination. It approved the construction plan in the same month.