31 March, 2016
NRA Approves Start of Freezing of Land-side Impermeable Wall at Fukushima Daiichi
On March 30, Japan's Nuclear Regulation Authority (NRA) approved the start of freezing of the land-side impermeable wall (frozen-soil shielding wall) at the Fukushima Daiichi Nuclear Power Plants, with the actual work starting one day later, on March 31.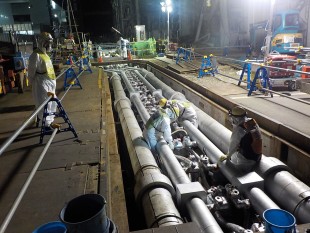 The wall is designed to reduce the flow of groundwater into the buildings of Units 1 through 4, and thus to control the volumes of contaminated water.
The frozen-soil shielding wall is one of several measures being employed to isolate groundwater in the area from the sources of contamination inside the reactor complex. The method involves pipes being installed below the ground at regular intervals around the buildings of the four units, then circulating coolant through the pipes to freeze gap water in the soil concentrically around each pipe, eventually creating a 1,500-meter barrier of frozen soil.
There are many examples of construction projects, such as of subways in urban areas, where open-tunnel boring is difficult, and where the frozen-soil shielding method has been successfully used. Its application at Fukushima Daiichi, however, will be on the largest scale to date, freezing approximately 70,000 cubic meters of soil.