10 November, 2016
NRA Draws up Review Report Drafts on Examinations of Genkai-3 and -4 for Compatibility with New Regulatory Standards
At a regular meeting on November 9, Japan's Nuclear Regulation Authority (NRA) drew up review report drafts for the Genkai-3 and -4 Nuclear Power Plants (PWRs, 1,180MWe each), owned and operated by the Kyushu Electric Power Co., in Genkai Town, Saga Prefecture, on examinations of their compatibility with the new regulatory standards.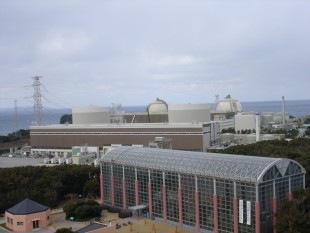 The drafts will become official after hearings at the Japan Atomic Energy Commission (JAEC) and the Ministry of Economy, Trade and Industry (METI), and a period for comments from the general public. Such review reports have so far been drawn up for ten NPPs, including five that have already been restarted and three for which permission has been granted to make changes to the reactor installations (basic design approval).
Applications for the compatibility examinations for Genkai-3 and -4 were filed with the NRA on July 12, 2013, four days after filings for the Sendai-1 and -2 NPPs, also owned and operated by Kyushu Electric Power. The NRA completed the draft reports for the Genkai units after safety examinations requiring about three years and four months. During that time, in 2015, both Sendai-1 and -2 were restarted and returned to normal operations, their examinations having proceeded first. Also in 2015, the company decided to decommission its Genkai-1 NPP.
In response to the examinations of Genkai-3 and -4, Kyushu Electric Power, in May 2016, modified the construction plans, including changing the design of the "emergency response facility," which is required as a common headquarters in the event of a severe accident, from a base-isolation structure to a seismic structure, thus further enhancing its support capability.
At a press conference after the meeting, responding to a question about the report drafts, the second cases for Kyushu Electric Power, NRA Chairman Shunichi Tanaka said: "I think the company in its entirety has been doing its utmost." He emphasized in regard to the Sendai-1 NPP, which was the first domestic NPP restarted after meeting the new regulatory standards and where a periodic inspection began in October, the importance of "accumulating a record of steady performance."
The Genkai-3 and -4 have been shut down since periodic inspections in December 2010 and December 2011, respectively. In its FY2016 Management Plan released in April, Kyushu Electric Power states that, toward restarting Genkai-3 and -4 as soon as possible, the company will deploy about 270 personnel to respond to the safety examinations. In order to "make doubly sure" that operations will be safe and stable after such long periods of shutdown, the power utility says it will conduct comprehensive safety inspections of facilities and equipment based on its experience with its Sendai NPPs, maintain close communications with the local community, and more.