24 May, 2017
Ohi-3 & -4 NPPs Clear Safety Examinations toward Restarts this Autumn
On May 24, the Nuclear Regulation Authority (NRA) officially approved review reports certifying clearance of safety examinations by the Ohi-3 and -4 Nuclear Power Plants (PWRs, 1,180 MWe each) in Fukui Prefecture, owned and operated by the Kansai Electric Power Co. (Kansai EP). Twelve NPPs at six sites have now been approved as meeting the new regulatory standards.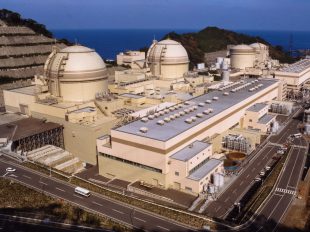 Kansai EP will still have to obtain approvals of construction work plans (detailed design approval), consents from the prefecture and local municipality, and more. It hopes to restart both units as early as this autumn.
All seven NPPs at three sites for which Kansai EP had filed applications for safety examinations by the NRA – Ohi-3 and -4 plus the Takahama-1 through -4 and Mihama-3 NPPs, all in Fukui Prefecture – have now been approved. The company is preparing to apply for its Ohi-1 and -2 NPPs.
Kansai EP submitted its applications to the NRA for safety examinations of Ohi-3 and -4 in July 2013. A major focus of the examinations was the state of geologic faults within the site and the area around it. The company increased standard ground motion (Ss) – the assumed maximum shaking in an earthquake within the premises – to 856 gals (a unit of acceleration) from the previous 700 gals. It eventually managed to obtain approval after strengthening other preparedness for natural disasters, including installation of a seawall against tsunami.
In February 2017, the NRA approved review report drafts after a one-month period for public comments. The NRA concluded that the company's basic policy on safety measures was compatible with the new regulatory standards.
On May 17, Kansai EP restarted its Takahama-4 (PWR, 870MWe), expecting to resume commercial operation in mid-June. It also plans to restart the Takahama-3 (PWR, 870MWe) in early June.