27 March, 2018
Russia Lifts Bans on Marine Products from Japan; Those from Fukushima Still Require Additional Documentation
As of March 26, the Russian government had lifted almost all prohibitions on marine products from Japan that had been introduced due to fear of radioactive contamination in the wake of the accident at the Fukushima Daiichi Nuclear Power Plants, owned and operated by the Tokyo Electric Power Co. (TEPCO). Bans on marine products produced in Iwate, Miyagi, Yamagata, Ibaraki, Chiba and Niigata Prefectures have been fully lifted. Those from Fukushima Prefecture are accepted with additional documentation that they are free from contamination, and more.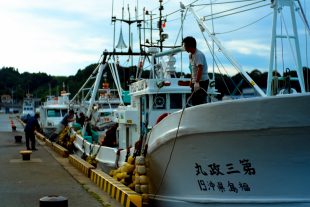 After the accident, many countries banned the importation of foods from Japan. It is hoped that lifting of the Russian bans, including on products from Fukushima, will influence other countries and create a tail-wind effect toward normalization of exports of food products from Japan. Moscow's Federal Service for Veterinary and Phytosanitary Surveillance, under the Ministry of Agriculture of the Russian Federation, took the action on March 23.
In April 2011, Russia banned imports from more than 200 marine processing companies in eight prefectures because of the nuclear accident in March 2011. In July 2015, it lifted the bans on items from Aomori Prefecture.
When Minister of Foreign Affairs Taro Kono visited Moscow in November 2017, he asked First Deputy Prime Minister Igor Ivanovich Shuvalov for further lifting. Against a backdrop of improving relations between the two countries, Russia demonstrated its understanding.
The Federal Service for Veterinary and Phytosanitary Surveillance requires that products from Fukushima be accompanied by an inspection certificate covering the radioactive materials cesium 137, cesium 134 and strontium 90, and that samples be inspected for those radioactive materials when the products are brought into Russia. The federal service said it made its decision taking into consideration a report by the International Atomic Energy Agency (IAEA) that included investigations of radioactive materials in surrounding environments and in Japanese food products.
After the accident, more than 50 countries and regions at least temporarily restricted imports of agricultural and fisheries products from Japan. According to Japan's Ministry of Agriculture, Forestry and Fisheries, as of March 23, 27 countries had fully lifted their bans. At present, more than 20 countries and regions, including China and South Korea, maintain some restrictions. In December 2017, the European Union (EU) loosened its restrictions.