31 July, 2015
Shika Lawsuit: Hokuriku Electric Power Says Suspicion of Fault Activeness Is Merely "Inference"
On July 27, a hearing was held at the Kanazawa District Court in the lawsuit seeking an injunction against the operation of the Shika-1 and -2 Nuclear Power Plants, bringing together anti-nuclear groups in Ishikawa Prefecture and neighboring Toyama Prefecture.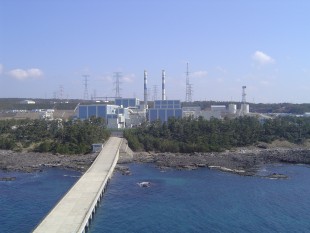 The reactors, located in Shika Town of Ishikawa Prefecture, are owned and operated by Hokuriku Electric Power Co. The judge presiding over the lawsuit is Masahiro Fujita.
Hokuriku Electric Power, referring to an agreement by an expert panel of the Nuclear Regulation Authority (NRA) that the seismic faults running under the premises of the Shika NPPs could be active, argued that the panel's conclusion was instead "based only on inference."
The expert panel has in fact gone a step further. Recently, on July 17, it issued a draft evaluation report saying that it was "undeniable" that the fault known as S-1, which runs directly under the Shika-1 (BWR, 540MWe), was active. The power company did not refer to the latest evaluation report at the July 27 hearing.
Hokuriku Electric Power noted that the view of the expert panel was "based on limited information, including a sketch and pictures of trial trenches made during investigations when Unit 1 was being built."
Saying that the separation depicted in the sketch was not from an active fault but "created by erosion by the sea," the power company argued again that the "fault cannot be active in the future."