30 May, 2017
Submersible Crawling Robot to Examine Interior of Fukushima Daiichi-3 PCV before Fuel Debris Is Removed
On May 25, the Tokyo Electric Power Co. (TEPCO) released a status report on the ongoing decommissioning work at the Fukushima Daiichi Nuclear Power Plants, which suffered a tsunami-caused meltdown in March 2011.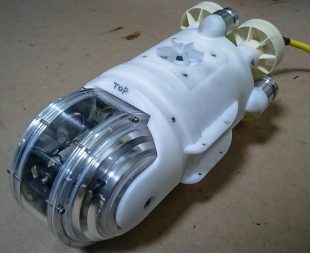 Starting two months ago, in March, a self-propelled robot has been used to investigate the interior of the primary containment vessel (PCV) of Unit 1 at Fukushima Daiichi—a necessary step before fuel debris can be removed. As of April 6, the robot had sampled deposits twice.
Fluorescent X-ray spectroscopy has now confirmed the presence of elements that had originally existed in the PCV, such as iron and nickel within the reactor core internals, stainless steel in the heat-insulating materials, zinc in the paint, and lead in the shielding materials.
Although uranium was confirmed as the primary radioactive nuclide within Unit 1, it is not necessarily part of the fuel debris there, given that that element exists naturally. TEPCO said that it would carry out more detailed analyses to confirm the uranium's source.
As the water level in the PCV of Unit 3 is higher than that in Units 1 and 2, its so-called "X-6 penetration"—which would give easier access to the inside of the pedestal (under the reactor pressure vessel)—is submerged. TEPCO plans to investigate the interior of that unit's PCV at an undetermined date this summer using a submersible robot that can both crawl and swim. Earlier this month, the power utility began taking measurements using muon observation technology to determine the location of fuel debris.
Under the "Mid-and-Long-Term Roadmap" toward decommissioning, TEPCO will determine policies on fuel debris removal at each Fukushima Daiichi unit this summer. According to its May 22 report to an expert panel of the Nuclear Regulation Authority (NRA), the power company has already made investigations to determine general conditions inside the individual PCVs.
TEPCO will continue to focus on gathering information during the current fiscal year (ended March 31, 2018), including that on the forms and distribution of fuel debris—necessary to determine the means to remove it—and safety measures for the actual removal work.