17 May, 2017
Takahama-4 NPP is Restarted
In the late afternoon on May 17, the Kansai Electric Power Co. (Kansai EP) resumed operation of its Takahama-4 Nuclear Power Plant (PWR, 870MWe) in Takahama Town, Fukui Prefecture. The unit was restarted a year and three months after it was shut down. This ends the period in which Kansai EP's operating status was "ZERO NPPs in service."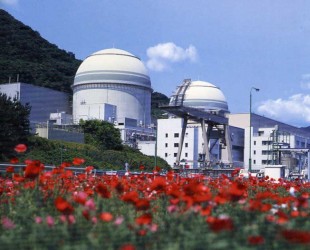 A total of 157 nuclear fuel assemblies, including four MOX fuel assemblies, are loaded in the reactor, marking the first use of MOX fuel at Takahama-4. Kansai EP will resume commercial operation in mid-June.
Takahama-4 was shut down due to an electrical problem immediately after it was restarted in February 2016. The Otsu District Court then issued a temporary injunction on March 9, 2016, against operation of both Units 3 and 4, and they remained unavailable until the Osaka High Court reversed the decision in March of this year, allowing them to be legally operated again.
Sometime after 9:00 a.m. on May 17, Kansai EP began a final inspection to confirm that control rods to control fission in the reactor core would operate normally. It completed that inspection sometime after 1:00 p.m. If all goes steadily from now, the reactor is expected to reach criticality – stable, sustained fission – at about 6 a.m. on May 18. The company plans to resume electricity generation and connect to the grid on May 22.
There are now four NPPs in operation in Japan, including the Sendai-1 and -2 NPPs, owned and operated by the Kyushu Electric Power Co., in Kagoshima Prefecture, and the Ikata-3 NPP, owned and operated by the Shikoku Electric Power Co., in Ehime Prefecture. MOX fuel is also used at Ikata-3.
On May 16, Kansai EP completed loading of nuclear fuel at the Takahama-3 (PWR, 870MWe). Hereafter, it will conduct inspections of equipment and facilities, aiming at a restart in early June, and resumption of commercial operation at the beginning of July.