2 July, 2015
Toshiba and IRID Develop Small Robot to Investigate Fukushima Daiichi-2 PCV Interior
On June 30, Toshiba Corporation issued a press release saying that it had developed a small robot, together with the International Research Institute for Nuclear Decommissioning (IRID), to investigate the interior of the primary containment vessel (PCV) of Unit 2 at the Fukushima Daiichi, damaged by the March 2011 tsunami.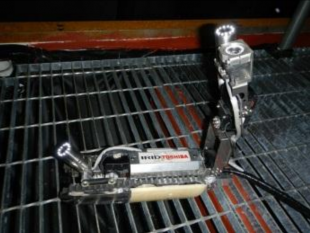 Operators of the robot will begin training this month, with on-site use of the robot slated by the end of August.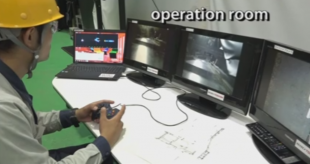 To develop procedures for removing fuel debris, it is important to grasp exactly how the various objects lying inside the PCV of Unit 2 are distributed. The robot will thus be used to identify fallen objects and damage in the PCV, helping to ascertain the condition of an access route.
According to the recently revised mid-to-long-term roadmap toward Fukushima Daiichi's decommissioning, the method for removing fuel debris from the first unit will be determined between April and September 2018, the first half of FY18.
The robot measures approximately 54cm long, 9cm high and 9cm wide, and weighs about 5kg. It is equipped with two cameras and LED lights, a radiation dosimeter, and a thermometer. Remotely operated via a wire cable, the robot will enter the PCV through a small pipe approximately 10cm in diameter.
Lights and cameras are attached to both the front and rear of the robot. Once the robot reaches its destination near the center of the PCV, its rear section will be raised like the tail of a scorpion. The LED lights and camera attached there will then illuminate and record the surroundings, compiling a video of a broad section of the interior of the PCV. The robot is self-righting, in case it tips over as it moves along.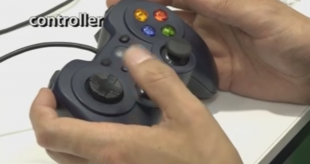 Work is currently going on at Fukushima Daiichi-2 to remove shielding blocks in front of the PCV penetration (the X-6 penetration), through which investigative equipment — including the new robot — will enter.
You can also see the video prepared by Toshiba.