5 January, 2018
Toshiba ESS, IRID Develop Device to Investigate Interior of Primary Containment Vessel at Fukushima Daiichi-2 NPP
On December 22, Toshiba Energy Systems & Solutions Corporation (Toshiba ESS) and the International Research Institute for Nuclear Decommissioning (IRID) both announced that they had developed a remotely-controlled device to investigate the interior of the damaged primary containment vessel (PCV) of the Fukushima Daiichi-2 Nuclear Power Plant, in preparation for removal of fuel debris.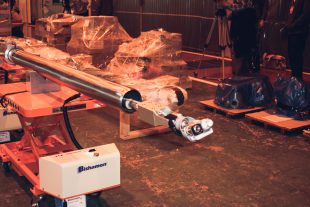 The device consists of a cylindrical guiding pipe with a telescopic guiding pipe (extendable) as its final section. At the end of the telescopic section, two cameras, a dosimeter and a thermometer are installed. One of the cameras—a remotely controlled pan-tilt camera that can swivel 120 degrees vertically and 360 degrees horizontally—can be lowered from the end of the telescopic pipe by cable.
In comparison with previous efforts, the reach has been extended and the device has been made smaller, providing greater access within the pedestal. In circumstances of steam-filled darkness, visibility is further ensured with the ability to adjust the distance between the camera and accompanying light. Mechanisms are radiation-hardened to approximately 1,000Gy. According to engineers involved with the development, operation up to 10 hours is possible.
In preparation for removal of fuel debris, a series of investigations of the PCV interior at Unit 2 was conducted using self-propelled devices between January and February 2017, and it was found that part of the grating inside the pedestal (below the reactor pressure vessel) had fallen out.
The device was shipped to Fukushima on December 22. After preparatory work on site, it will be used to examine the PCV interior at Unit 2 from the latter half of January to February 2018.
Site for reference: https://www.toshiba-energy.com/en/info/info2017_1222.htm