8 April, 2021
JGC Holdings Announces Participation in SMR Development by NuScale Power in the U.S.
On April 6, JGC Holdings Corporation (JGC) announced that it would expand its business overseas—engineering, procurement, and construction (EPC) for small modular reactors (SMRs)—and invest USD40 million in NuScale Power, LLC, a developer of SMRs in the United States.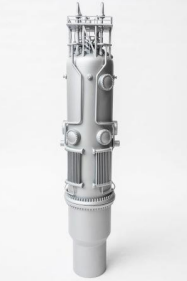 NuScale, working at the Idaho National Laboratory, is developing a light-water small modular reactor (SMR) with a service target of 2029. The reactor will have an integrated containment diameter of 4.5m, a height of 23m and output of 77MW. SMRs feature improved reliability through simplified systems with smaller cores, and can be manufactured in factories as modules for delivery.
Given the substantially reduced construction times and costs in comparison with 1000-MW-class reactors, competition for their development is seen in multiple projects overseas, not only in the United States, but in other advanced nuclear technology countries, including Canada and England.
In addition to the expected potential of an expanding SMR market in the future, JGC hopes that SMRs will contribute—on a scale comparable to that of renewable energies—to the realization of a carbon-free society.
NuScale's SMR technology obtained regulatory design approval from the U.S. Nuclear Regulatory Commission (NRC) in August 2020, ahead of others, a sign of the recognition by the NRC of its safety, and marking it as the closest SMR technology to commercial use. That allowed JGC to come to its decision.
From now on, JGC will endeavor to secure orders and execute SMR EPC projects, primary in overseas markets. It will also address possibilities for integrating SMRs with facilities for renewable energies, hydrogen production and desalination of seawater.
In December 2020, the Japanese government issued a report entitled "Green Growth Strategy Through Achieving Carbon Neutrality in 2050," which states, "Japanese industries with high productive capability will work together to participate in the development of next-generation advanced reactors in progress overseas, so as to accelerate innovation in diverse nuclear technology."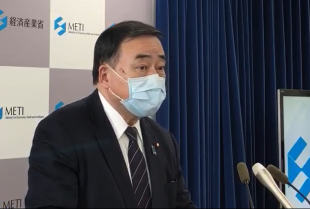 At a press conference held after a Cabinet meeting on April 6, Hiroshi Kajiyama, head of the Ministry of Economy, Trade and Industry (METI), said that promoting diverse nuclear innovation was particularly important from the viewpoint of continually pursuing improvements to nuclear safety.
"It is gratifying," the minister said, "to witness efforts by Japanese and American companies making actual progress."