7 December, 2016
17th FNCA Ministerial Level Meeting Reconfirms Importance of Stakeholders' Participation
On November 30, the Ministerial Level Meeting of the 17th Forum for Nuclear Cooperation in Asia (FNCA) was held in Tokyo. Participants came from Australia, Bangladesh, China, Indonesia, Kazakhstan, South Korea, Malaysia, Mongolia, the Philippines, Thailand and Vietnam, as well as Japan.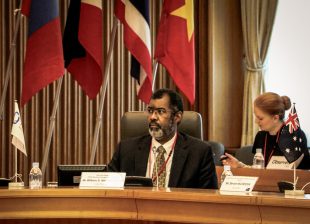 The officials representing Japan at the meeting included Yosuke Tsuruho, Minister of State for Science and Technology Policy; Hirotaka Ishihara, Senior Vice Minister of the Cabinet Office; Yoshiaki Oka, Chairman of the Japan Atomic Energy Commission (JAEC); Nobuyasu Abe and Tomoko Nakanishi, both JAEC commissioners; and Tomoaki Wada, FNCA Coordinator of Japan.
In both his opening and welcoming speeches, Minister Tsuruho referred to the current circumstances of Fukushima nearly six years after the March 2011 accident at the Fukushima Daiichi Nuclear Power Plants, saying that radiation levels had declined in surrounding areas to the point that local residents are gradually returning home. He stressed that Japan wants to share the lessons learned from the accident with other countries.
In the opening session, William D. Magwood, Director General of the OECD Nuclear Energy Agency, delivered a keynote address on global movements and issues under the theme "Stakeholders' Participation." In the past, he said, there was a time when residents were left out of decision-making when it came to building NPPs. Today, however, with cultural expectations more complex and trust in the government wavering, getting a nuclear site's stakeholders involved is essential.
He cited the example of the leakage of tritium in the United States, in which the level was well below what would adversely affect human health. Rather, however, than simply saying so, or distributing fliers declaring safety and expecting residents to accept that, it was more effective in obtaining understanding from the public by having meetings with them, explaining the situation in readily understandable terms, and answering their questions. He emphasized the importance of maintaining an attitude of facing the stakeholders squarely and conversing with them.