11 December, 2015
2016 JAIF New Year's Party
Date and Time : Wednesday, January 6, 2016
14:30 - 16:00pm
Venue : Banquet Hall "Ho-O-no-Ma" , 2nd Floor, Tokyo Prince Hotel
3-3-1 Shibakoen, Minato-ku, Tokyo
Dress Code : Informal
*Opening Speeches will be in Japanese only.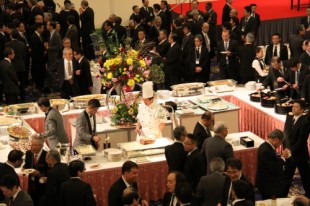 In appreciation of international cooperation, Mr. Takashi Imai, Chairman of Japan Atomic Industrial Forum, Inc., requests the pleasure of your company at a buffet luncheon.
The party provides an opportunity for you to deepen understanding of the circumstances of nuclear power industry in Japan, through greetings and communication with key representatives of JAIF member companies.