21 July, 2017
2017 Japan-IAEA Joint Nuclear Energy Management School Opens for Several Dozen Young Professionals from Seventeen Countries
On July 18, the Japan-IAEA Joint Nuclear Energy Management (NEM) School—designed to foster nuclear management capabilities among the next generation of young professionals in Japan and elsewhere—got underway at the University of Tokyo.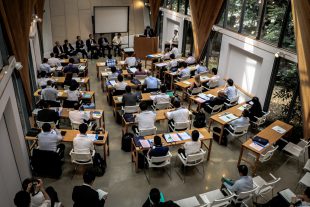 In his opening message, President Akio Takahashi of the Japan Atomic Industrial Forum (JAIF)—who concurrently chairs the operating committee of the Japan Nuclear Human Resource Development Network (JN-HRD Net)—reiterated that nuclear power is expected to play an important role in meeting the twin global challenges of combating climate change and ensuring stable energy supplies to meet demand from increasing populations. He said that he hoped that the students of the NEM School would not only add to their nuclear-related knowledge and understanding during their time there, but also build networks that would be helpful for them during their careers.
Also speaking were University of Tokyo Professor Mitsuru Uesaka who serves as chairman of JN-HRD Net, as well as Chairman Yoshiaki Oka of the Japan Atomic Energy Commission (JAEC). Both reported that the decommissioning work at the Fukushima Daiichi Nuclear Power Plants, where the participants would visit as part of their training, was proceeding steadily.
This year is the sixth for the school in Japan, which is operated by six institutions: JN-HRD Net, the University of Tokyo's Nuclear Professional School, the National Institute of Technology, Fukushima College (located in Iwaki City, Fukushima Prefecture), the Japan Atomic Energy Agency (JAEA), JAIF, and the JAIF International Cooperation Center (JICC).
Thirty-five students are participating this year from seventeen countries around the world: Bangladesh, Brazil, Bulgaria, the Czech Republic (Czechia), China, Indonesia, Kazakhstan, Korea (South Korea), Malaysia, Mexico, the Philippines, Poland, Thailand, Turkey, the UAE, Vietnam and Japan.
The program, which lasts from July 18 to August 3, comprises lectures and group discussions on diverse nuclear-related topics, including energy policy, nuclear nonproliferation, international law, economics, human resource development, and the environment.
It also includes technical tours to such places as a factory of Hitachi, Ltd., the Fukushima Daiichi and Daini NPPs, JA Fukushima Sakura (an agricultural cooperative), Commutan Fukushima (the communication building of the Fukushima Prefectural Center for Environmental Creation), and the Naraha Remote Technology Development Center in Naraha Town (Fukushima Prefecture), as well as exchange meetings with students of the National Institute of Technology, Fukushima College.