5 February, 2020
2021 Nuclear Recruiting Events Held in Tokyo on February 1, and in Osaka on the 16th
On February 1, the Japan Atomic Industrial Forum (JAIF) and Kan Gen Kon (Kansai Genshiryoku Kondankai, the Kansai Nuclear Council) jointly held a seminar in Shinjuku, Tokyo, entitled "Presentations by the Atomic Industry 2020" (PAI). It was designed for undergraduates, graduate students, and those from National Institutes of Technology, mainly those expecting to graduate next year.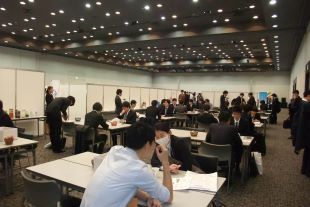 The seminar has been held annually since FY06 (April 2006 to March 2007) for the purposes of supporting nuclear-related industries and organizations in their efforts to secure human resources, and to provide students with information on the nuclear industry and to help them better understand it.
On February 16, a similar event will be held in Osaka, where thirty-six industry and organization booths are expected. Added to the forty-five booths seen last Saturday in Tokyo, the total of eighty-one booths this year will be a record high.
Approximately 140 students participated in the Tokyo seminar. In an interview with AIJ, an engineer from Mirion Technologies + Canberra, a radiation measurement company taking part in the seminar for the first time, said that students were interested in the technological strengths of the company, including the Truckscan system developed jointly with Obayashi Corporation, which allows the measurement of the radioactive concentrations of bags of removed soil from decontamination projects while the bags are still loaded on trucks.
Meanwhile, a representative from the secretariat of the Nuclear Regulation Authority (NRA) of Japan told the students that there were many ways in which they could be active—and not just in the safety examinations of nuclear facilities. He pointed out that about 20 percent of the students were from the humanities, and emphasized that the secretariat hoped to appeal to students in various fields. The NRA was scheduled for a total of eight explanatory sessions.
A person in charge of recruitment at the Nuclear Waste Management Organization of Japan (NUMO), which has participated in the seminars since the first one fourteen years ago, said that many students majoring in nuclear energy had visited its booth. He said that he thought that they would be able to make immediate use of what they had studied and learned. He noted that one student in particular had become interested in the nuclear field at a campus festival after seeing a model, displayed by the communication vehicle known as "Geo Mirai," demonstrating geological disposal around Japan.
Since the March 2011 accident at the Fukushima Daiichi Nuclear Power Plants (NPPs), the seminar has seen little growth in the number of participating students, who are majoring in mechanical, electrical, chemical and similar fields, and whom nuclear-related industries and organizations are highly interested in recruiting.
That has increased the importance of JAIF's endeavors in disseminating information to such students—through visits to universities and National Institutes of Technology that have participated in the event, by direct mail to students majoring in science and technology, and by distributing the pamphlet entitled, "Why not work in the nuclear industry?"