8 March, 2019
Chairman Hosoda of Chiyoda Technol Awarded National Order of Merit by France for Joint Development of Glass-Badge Personal Dosimeter
Chairman Toshikazu Hosoda of the Chiyoda Technol Corporation has been awarded the French National Order of Merit by the French government, and was presented with the insignia of a Chevalier (Knight) at a ceremony which took place at the French Embassy in Tokyo on February 27.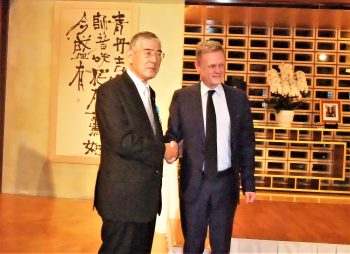 The company developed a glass-badge personal dosimeter—Chiyoda Technol's strongest field of expertise—jointly with the French Institut de radioprotection et de sûreté nucléaire (IRSN, or the Radioprotection and Nuclear Safety Institute), having delivered it to that organization. Not only is it regarded as a highly-evaluated technical achievement, but also as a significant contribution to the cooperative relationship between the two countries in the area of radiological protection technology.
At the ceremony, French Ambassador to Japan Laurent Pic emphasized that the dosimeter developed jointly with Chiyoda Technol had been of major benefit to IRSN, and that the company manifested an attitude and atmosphere for "making good products." He also praised its technological capabilities and spirit of providing service.
Noting further that dosimeters based on Chiyoda Technol's technology are being used around the world, the ambassador credited Hosoda's leadership of the company over many years. "Chairman Hosoda has contributed immeasurably not only to French-Japanese cooperation, but also to the people of the world," he said.
As he accepted the award from the ambassador, the chairman displayed his joy openly, declaring his gratitude for the "honorable order." He then talked about the background of how Chiyoda Technol, which had been providing film-badge dosimeters for measuring personal dosage for many years, came to improve the performance of the equipment, and how it managed to put glass-badge devices to practical use.
For the first time in its history, the company then invited international bidding on the glass-badge dosimeters. In 2005, it received an inquiry from IRSN. The company sent employees to Paris and worked together with JCC Corporation, eventually receiving the bid. Encouraged by that award, Chairman Hosoda renewed his hope of "making further progress in French-Japanese cooperation."
In the past decade, about 150 Japanese individuals have been awarded the French Ordre national du Mérite. In recent years, the Chevalier rank was also bestowed upon President Naohiro Masuda of Japan Nuclear Fuel Ltd. (JNFL) (then president of the Fukushima Daiichi Decontamination & Decommissioning Engineering Company).