3 March, 2021
Challenged by Rubble, TEPCO Completes Removal of Spent Fuel Assemblies from Pool at Fukushima Daiichi-3 NPP
On February 28, the Tokyo Electric Power Co. (TEPCO) announced that it had completed removal of 566 spent fuel assemblies from the Unit 3 spent fuel pool at the Fukushima Daiichi Nuclear Power Plants (NPPs).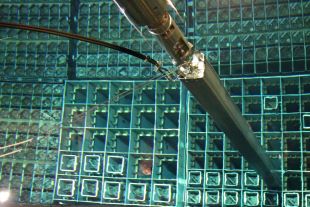 This is a major accomplishment—the first from a plant with a melted reactor core. It follows the removal of 1,535 assemblies from Unit 4, which had been shut down at the time of the accident. The work, carried out by remote control, was difficult, hampered by rubble and debris, as well as by quality-control procurement issues and other problems with equipment. With improvements, perseverance and training, the utility completed the removal at Unit 3 by the end of FY20 (i.e., by March 31, 2021), as targeted in the "mid-to-long-term roadmap" toward the decommissioning.
Removal was accomplished within a dome-like cover installed at the upper part of the reactor building. It had been slated to start in mid-FY18 (around September 2018), but there were difficulties with equipment and facilities, including the fuel handling machine and a crane to raise and lower the fuel transport container. Investigations by TEPCO and countermeasures took time, though, and the work did not start until April 2019.
With debris having fallen into the pool, some fuel assemblies had their handles deformed or were otherwise difficult to lift. Each of those challenges was overcome through confirming the soundness of the individual assemblies and the manufacturing of specific gripping devices. The final six assemblies were transferred from the fuel transport container to the common spent fuel pool in the afternoon of February 28, completing the removal.
Through the work to remove fuel from the spent fuel pools, TEPCO has accumulated information and know-how on remote-controlled operations, dealing with rubble in the pools, quality assurance systems for equipment and facilities, and last but not least, important lessons learned from its experience.
The company will next reflect those lessons in its work at Unit 1 (392 assemblies) and Unit 2 (615 assemblies), where removal is expected to start from FY27 to FY28 (April 2027 to March 2029), and from FY24 to FY26 (April 2024 to March 2027), respectively.