7 July, 2016
Chugoku Electric Power Files for Approval of Decommissioning Plan for Shimane-1
On July 4, the Chugoku Electric Power Co. filed an application with the Nuclear Regulation Authority (NRA) of Japan for approval of its plan to decommission the Shimane-1 Nuclear Power Plant (BWR, 460MWe). The power utility had originally made its official decision on April 31, 2015, to decommission the plant.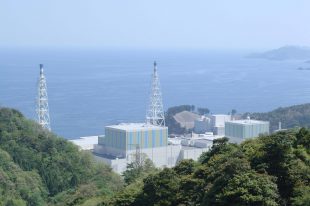 The decommissioning of the reactor will involve four processes, as follows: preparing for dismantling, dismantling the peripheral reactor equipment, dismantling the reactor itself, and dismantling the reactor buildings and other facilities. The power utility will complete all the work by FY45 (April 2045 to March 2046).
Once it gets permission from the NRA, Chugoku Electric Power will begin decommissioning Shimane-1 in the current fiscal year (ending March 31, 2017). All 722 spent fuel assemblies stored at the reactor site will be removed and transferred to a reprocessing facility before the actual dismantling begins in FY30 (April 2030 to March 2031).
The decommissioning of four other reactors in Japan besides Shimane-1 was also decided upon in April 2015: Tsuruga-1 of the Japan Atomic Power Company, Mihama-1 and -2 of the Kansai Electric Power Co. (Kansai EP), and Genkai-1 of the Kyushu Electric Power Co. Each of those operators subsequently filed an application with the NRA to get approval for the respective decommissioning plans.
On the same day that it filed the application for Shimane-1, Chugoku Electric Power also filed another application with the NRA for permission to make changes to the reactor installation (basic design approval) at its Shimane-2, which the NRA has been examining for compatibility with the new regulatory standards. The planned changes will be made to the reactor's facilities aimed at responding to specific severe accident situations, including terrorist attacks, as required under the new standards.