6 October, 2016
Committee Discusses Limited Liability of Nuclear Operators for Accidents
On October 3, a special committee of the Japan Atomic Energy Commission (JAEC), looking into the issue of Japan's nuclear damage compensation system, held its 14th meeting. The members focused their discussions this time on the scope of liability under that system, particularly the differences between limited and unlimited liability on the part of nuclear operators.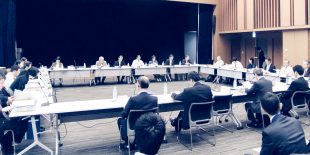 Assuming limited liability for nuclear operators—with financial security ultimately being borne by the government—the debate revolved around the following points:
Whether limited liability would suppress the occurrence of accidents.
Whether limited liability would complicate procedures.
How to ensure "foreseeability" for private companies in their nuclear businesses.
Whether the public debt burden would increase for damage beyond a set liability limit.
Establishing a specific system involving compensation by the government.
On the other hand, several concerns were raised about the maintenance of the current system of unlimited liability for nuclear operators:
Establishing a system for financial security.
The effect of increasing the financial security amount on the national financial burden.
Making flexible responses regarding the national government's obligations.
Speaking about the case of operators' limited liability, Hiroko Yotsumoto, a partner at the international law firm of Mori Hamada & Matsumoto, noted that establishing a stable system convincing to the public was expected to be quite difficult, given that the limit on liability could be extremely high, although private industries' "foreseeability" could be increased. She added that the amount of the limit could be set even higher if there were an intentional act or negligence on the part of the operator. She also touched upon the issue of the government's compensation being effectively unlimited.
Another committee member, President Kaoru Kamata of Waseda University, said that any system was, in principle, one of unlimited liability, adding that it was, in practice, about sharing the economic burdens in each case, if properly worked out. That, he said, was as simple and appropriate as a legal structure.
At the next meeting, the special committee will discuss specific proposals in more detail.