30 April, 2020
Construction Begins of Next Generation Synchrotron Radiation Facility at Tohoku University, to Be Used for Fuel Cells and Pharmaceuticals
On April 22, a groundbreaking ceremony was held at the Aobayama Campus of Tohoku University in Sendai City (Miyagi Prefecture) for the main building to serve as the core of a next-generation synchrotron radiation facility.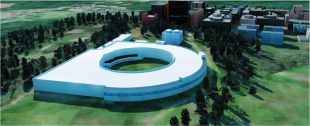 A particle accelerator (3GeV electron energy), with a storage ring measuring some 350m in circumference, will be installed in the main building from FY21 to FY23 (April 2021 to March 2024). It will fill two above-ground floors and one basement floor of the building, with a total floor area of 2.5 hectares. The facility is slated to start operation some time in FY24 (April 2024 to March 2025).
In operation since 1997, Spring-8, offering electron energy of 8GeV, is used to analyze the structure of materials, mainly by using X-rays in the high-energy range (hard X-rays, 5-20keV).
The next-generation synchrotron radiation facility, in contrast, will be used to analyze the function of materials, mainly using X-rays in the low-energy range (soft X-rays, up to 2keV). It is hoped that the facility will be useful in developing fuel cells and pharmaceuticals.
Recently, new synchrotron radiation facilities using soft X-rays have been constructed in the United States, Taiwan, Sweden and Brazil, adding to the existing ones in Switzerland, France, England, China and South Korea.
In January 2018, an expert panel of Japan's Ministry of Education, Culture, Sports, Science and Technology (MEXT) issued a report saying that such a facility should be developed domestically as soon as possible, recognizing that "no environment is in place [in Japan] to compete squarely with other countries," and that "great need and demand can be expected for its industrial use."
Based on that, the National Institute for Quantum and Radiological Science and Technology (QST) was designated by the Japanese national government to be the core body for the facility's development and operation. In September 2018, QST and its regional and industrial partners—the Photon Science Innovation Center (PhoSIC), Miyagi Prefecture, Sendai City, Tohoku University and the Tohoku Economic Federation—concluded a partnership agreement, with actual steps beginning toward the facility's construction.
After the site began to be prepared for the next-generation synchrotron radiation facility in March 2019, Tohoku University launched the International Center for Synchrotron Radiation Innovation Smart (SRIS) in October of the same year. It has been working since then to build an international study network and the development of education and human resources using SRIS.
On April 20, the university delineated technologies related to synchrotron radiation, issuing a public invitation for proposals of research aimed at controlling the novel coronavirus COVID-19. It also announced that the first International Forum for Innovation in Next Generation Synchrotron Radiation would take place via web conference.