23 January, 2020
Finishing Mission in Japan, IAEA's IRRS Points Out Importance of NRA's Communicating with Nuclear Industry
On January 21, an eight-day scheduled mission to Japan was concluded by the Integrated Regulatory Review Service (IRRS), a team of experts sent by the International Atomic Energy Agency (IAEA). Team leader Ramsey Jamal, vice president of the Canadian Nuclear Safety Commission (CNSC), held a press conference on the same day with Chairman Toyoshi Fuketa of Japan's Nuclear Regulation Authority (NRA).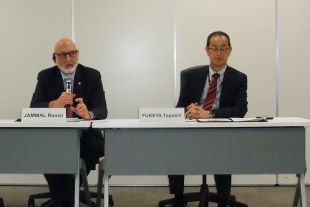 The IRRS mission this time was a follow-up to review Japan's responses to the recommendations and suggestions (thirteen each) made by the original mission in January 2016. According to IAEA guidelines, a follow-up mission must be implemented some two to four years after the initial main mission has been completed. The final report of the follow-up mission will be released in three months or so.
Along with the recommendations and suggestions mentioned above, IAEA's previous mission to Japan four years ago cited the country for two good practices. In response, the NRA formulated measures to deal with relevant issues, and has been working on responsive activities, including reviewing its inspection system and revising various regulations related to reinforcing the regulation of radiation sources.
At the January 21 press conference, IAEA's Jamal said that Japan had made "quite significant improvement." Meanwhile, NRA's Fuketa said that "very vigorous discussions" had been made with the mission members.
Regarding the inspection system, the NRA, responding to the previous IRRS mission in 2016, redesigned the system to secure access rights for inspectors to nuclear facilities. It also dispatched inspectors to the U.S. Nuclear Regulatory Commission (US-NRC), and started new education and training courses for inspectors to improve their capabilities. All its efforts are aimed toward the full-scale operation of the new inspection system in fiscal 2020 (starting this April).
Jamal said that the mission this time confirmed that Japanese inspectors had "certainly been well trained," adding, "Although the independence of the regulatory body should never be impaired, its communication with the industry contributes to nuclear safety." Referring to examples in Canada, he reiterated the importance of the regulatory body's keeping up with technological innovations in the industry, and its activities for improvement, among other things.
The NRA chairman declared that "neglecting continuous improvement would never be allowed," describing it as one of the lessons learned from the March 2011 accidents at the Fukushima Daiichi Nuclear Power Plants (NPPs). He also said that the NRA was "not waiting" for the final report as it continues its work to resolve issues.