10 August, 2016
Five Japanese Power Companies to Cooperate in Nuclear Business
On August 5, the Hokuriku Electric Power Co. became the fifth power utility in western Japan to join a mutual cooperation agreement on their nuclear businesses. As costs for such matters as safety measures and decommissioning have grown into major burdens for such companies in their nuclear management, they hope to bring greater stability to their operations by cooperating with each other.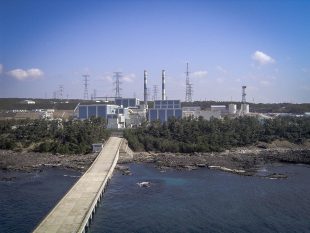 In April of this year, four power utilities in western Japan—the Kansai Electric Power Co. (Kansai EP), the Kyushu Electric Power Co., the Chugoku Electric Power Co. and the Shikoku Electric Power Co.—concluded an agreement to cooperate over a broad area of concerns, including responses to severe accidents, decommissioning and safety measures. As mentioned above, they are now joined by Hokuriku Electric Power, whose Shika-1 (BWR, 540MWe) and -2 (ABWR, 1206MWe) reactors in Ishikawa Prefecture are situated near Kansai EP's Mihama Nuclear Power Plants in Fukui Prefecture.
Hokuriku Electric Power has been carrying out work on safety measures at the Shika NPPs in regard to the compatibility of the units with the new regulatory standards laid forth by the Nuclear Regulation Authority (NRA). The power utility will have to invest JPY150 billion to 200 billion (USD1.47 billion to USD1.96 billion at USD1=JPY102) by the end of the current fiscal year (i.e., March 31, 2017) for Unit 2 and those parts common to the two units.
As of the end of the previous fiscal year (i.e., March 31, 2016), it had already spent some JPY60 billion (USD0.59 billion). Future decommissioning costs are estimated at approximately JPY126 billion (USD1.24 billion) for the two units combined. Hokuriku Electric Power hopes to reduce its costs by working together with the other four power companies.
Kansai EP and the other companies similarly expect further savings in such areas as decommissioning costs. Since the March 2011 accident at the Fukushima Daiichi NPPs, owned by the Tokyo Electric Power Co. (TEPCO), Japan's power utilities have spent a combined total of more than JPY1 trillion (USD98.04 billion) on safety measures. Similar cooperation is likely being pursued among power companies in the east of the country, including TEPCO and the Tohoku Electric Power Co.