4 August, 2015
Fuel Handling Machine Removed from Unit 3 Spent Fuel Pool at Fukushima Daiichi
On August 2, a fuel-handling machine was removed from the spent fuel pool at Unit 3 of the Fukushima Daiichi Nuclear Power Plants, the largest item of debris in the pool (see photo). The work lasted less than an hour and a half, beginning at 11:55 a.m. and ending at 1:18 p.m.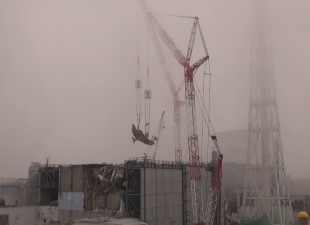 The Tokyo Electric Power Co. (TEPCO), the owner of the facility, had taken various precautionary steps against risks experienced during the removal. Those included investigating the conditions inside the pool, designing a special machine to lift the large debris, and testing that on a mock-up of the debris. It also held meetings with local citizens, at which it explained what actions would be taken.
Before removal operations were resumed, the power company's preparations had included installing additional protective boards in the pool and designing equipment to lift the machine. On the day of the removal, all other work in the area was suspended to ensure the ability to react to any possible eventuality.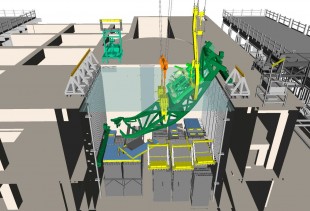 TEPCO said that the removal of the fuel handling machine was a major step forward toward the future removal of fuel assemblies.
After an agent is sprayed to prevent the scattering of radioactive materials in the southwestern section of the space, the main body of the machine removed on August 2 will be cut into pieces for transfer. Those pieces will be temporarily sorted into high-level and low-level radioactive debris, and placed in the appropriate storage areas.
According to the government's latest mid-to-long-term roadmap toward the decommissioning, revised in June, TEPCO will begin removing the spent fuel assemblies at Unit 3 in FY17 (April 2017 to March 2018).