17 July, 2019
Fukui Governor Asks METI and MEXT to Use Decommissioning to Spur Industrial Development of Prefecture
On June 25, Governor Tatsuji Sugimoto of Fukui Prefecture visited the offices of the Ministry of Education, Culture, Sports, Science and Technology (MEXT) and the Ministry of Economy, Trade and Industry (METI) in Tokyo to request that the government steadily promote its policies on nuclear energy and regional development, among other things.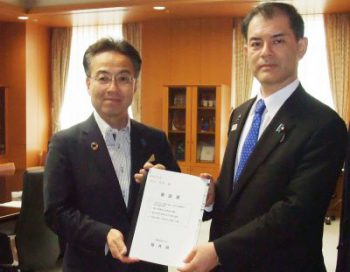 The governor personally delivered written requests to MEXT Minister Masahiko Shibayama and METI Parliamentary Vice-Minister Hirofumi Takinami. The request initially focused on the development of resilient infrastructure for transportation and logistics, as well as land owned by the national government.
The documents also urged the national government to be unwavering in its implementation of nuclear and energy policies toward the realization of stable lives of residents in the region, as well as industrial development and national security. The emphasis was on the powerful effect that those policies have on regional revitalization.
Specifically, Governor Sugimoto's letter urged the national government to further consider, as a whole, various issues that Fukui Prefecture is currently facing, asking it to steadily carry out responsible policies on each. Those include the decommissioning of nuclear reactors, the operation of reactors beyond the 40 year limit, the interim storage of nuclear spent fuel, the disposal of radioactive waste, and the nuclear fuel cycle.
Regarding the operation of reactors beyond four decades—a necessary condition for achieving the country's desired energy mix by 2030—the government needs to take the initiative in thoroughly explaining the necessity and safety of the new policy to the public nationwide.
During his meeting with MEXT Minister Shibayama, Governor Sugimoto also emphasized the importance of the national government's guidance and supervision during the decommissioning of the prototype fast breeder reactor (FBR) Monju, as well as in the maintenance and development of infrastructure for nuclear research and human resource development.
With the national government having decided to decommission Monju, the prefecture is working on a new plan to replace the energy and research centralization plan for Tsuruga City and the rest of southern Fukui Prefecture, known as the Reinan Area, renaming it tentatively as the "energy coast vision."
Requesting the necessary budgetary measures, the governor showed the MEXT minister an illustration depicting the current state of domestic nuclear power plants where decommissioning is now proceeding, adding that it represented a good business opportunity. He also asked the national government to support efforts by local companies to improve their technological capabilities and develop human resources toward the creation of new businesses.
Later, when meeting with Parliamentary Vice-Minister Takinami, Governor Sugimoto emphasized the need for the national government to sufficiently explain nuclear policy to the public, as well as about the application of grants available under the three laws on power-source siting by the time decommissioning ends.
It has been around three months since the governor took office in April. This was his first request to the government in preparation for the issuance of a draft budget for the coming fiscal year (April 2020 to March 2021).