15 June, 2018
Fukushima Daini NPPs to Be Decommissioned as Well
In the morning of June 14, President Tomoaki Kobayakawa of Tokyo Electric Power Company Holdings, Inc. (TEPCO) met Fukushima Governor Masao Uchibori at the prefecture's office in Fukushima City, where he told the governor that TEPCO was working toward a decision to decommission all four units at its Fukushima Daini (Fukushima-II) Nuclear Power Plants (4 BWRs, 4400MWe total). "If the current undefined situation is allowed to continue," he said, "it could hinder the restoration of Fukushima."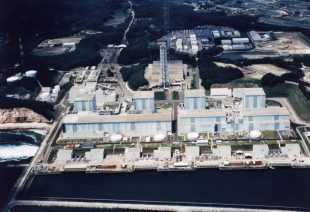 Decommissioning work is already underway at the Fukushima Daiichi (Fukushima-I) NPPs, where the nuclear accidents occurred following the giant March 2011 tsunami. The latest policy decision means that all ten of TEPCO's nuclear power plants in Fukushima Prefecture are now destined to be decommissioned eventually. The company's other NPPs are Units 1 through 7 at its Kashiwazaki-Kariwa NPPs in Niigata Prefecture. Construction of its Higashidori NPP in Aomori Prefecture has been suspended.
In light of the current situation, characterized by deeply rooted, unfounded fears and rumors in the wake of the accidents at Fukushima Daiichi, as well as the slow pace at which residents are returning to the affected areas, the power company president said that decommissioning Fukushima Daini together with Daiichi could "allow local residents to feel more secure."
In response, the governor said, "Decommissioning has always been the strong desire of the Fukushima people. Let me ask again for the decommissioning of all reactors." Meeting the press after their session, he said that TEPCO's shift on decommissioning marks "an important start."
After the meeting, Kobayakawa told reporters that the company would work on a specific schedule for decommissioning in the future, without saying anything more definitively.
The governor has pledged to get all the NPPs in the prefecture decommissioned. He is expected to announce his bid for re-election in the gubernatorial election to be held next fall, and wants to demonstrate that he has taken a step forward on his commitment.
In 1986, Chernobyl-4 (RBMK, 1000MWe) in Ukraine, where the accident occurred, was immediately closed, but operations at Unit 1 (RBMK, 800MWe) continued until 1996, at Unit 2 (RBMK, 1000MWe) until 1991, and at Unit 3 (RBMK, 1000MWe) until 2000, because of concerns over power shortages.