30 July, 2019
Fukushima Governor Promotes Local Products and Tourism at Summer Davos Meeting in China
At a press conference on July 3, Governor Masao Uchibori of Fukushima Prefecture reported on his business trip to the World Economic Forum's Annual Meeting of the New Champions 2019, known as "Summer Davos." The meeting took place from July 1 to 3 in Dalian, in Liaoning Province, China. The governor, who is actively promoting the export of products from his prefecture, was on his first visit to China in an official capacity.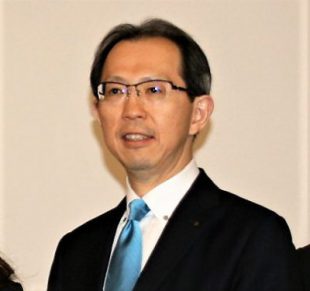 At the beginning of the press conference, he talked about his talks at the meeting with leaders from diverse spheres, including Executive Chairman Klaus Martin Schwab of the World Economic Forum (WEF). He added that he first conveyed the leaders his gratitude for supporting Fukushima's reconstruction after the giant March 2011 earthquake, and then explained to them how efforts were progressing to that end.
Earlier, during an innovation-related session of Summer Davos, the governor had spoken of Fukushima's efforts to "continue meeting the challenges of the future."
In the press conference, the governor praised Minister of State for Food Security Mariam Mohammed Saeed Al Mheiri, from the United Arab Emirates (UAE), as the "most impressive person" that he had ever met. When talking with her, she had leaned forward toward him to enthusiastically listen to his explanations of the prefecture's safety measures for agricultural and marine products.
He stressed that thanks to those talks with the minister, he felt that there might soon be some relief from—or even cancellation of—the UAE's import regulations on Fukushima products.
The governor also cited his meeting with Prime Minister Mamuka Bakhtadze of Georgia, at which he broached the subject of the sumo wrestler Tochinoshin, who hails from Georgia, and who had became grand champion of the tournament held in Tokyo in January 2018. At that time, the prefecture presented the wrestler with one ton of Fukushima rice, assorted vegetables and fruits, along with Fukushima beef, as its Governor's Prize. While talking with Governor Uchibori in Dalian, the Georgian prime minister demonstrated enthusiasm for continuing the support of Fukushima's reconstruction.
At the Summer Davos meeting, Governor Uchibori also met representatives from various African, Middle Eastern and Asian countries, including Saudi Arabia, the host country for next year's G20 summit. Such meetings, he said, enhanced friendly bilateral relations between those countries and Japan, and increased their interest in Fukushima.
The governor concluded his remarks at the press conference by saying that his participation in Summer Davos was a good opportunity to update others accurately on the current status of work going on at Fukushima. He conveyed his hope that each of the leaders whom he met would be able to visit the prefecture soon.