16 March, 2020
Fukushima Hydrogen Energy Research Field Opens in Namie Town, with Hydrogen to Be Used in Tokyo Olympics
On March 7, the opening ceremony was held of the Fukushima Hydrogen Energy Research Field (FH2R), located in Namie Town, Fukushima Prefecture. Construction was begun in 2018 by the New Energy and Industrial Technology Development Organization (NEDO), Toshiba Energy Systems & Solutions Corporation (Toshiba ESS), the Tohoku Electric Power Co., and Iwatani Corporation.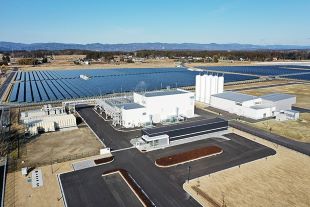 FH2R, with its 10-MW hydrogen production unit, is the world's largest water electrolysis facility, using electricity from a 20-MW solar power facility. It is expected to produce about 200 tons of hydrogen annually. The FH2R premises measure 180,000 m2.
As the introduction and use of renewable energies increase, surplus electricity can be expected from daytime solar power. FH2R will demonstrate technology to convert such surplus electricity into hydrogen, storing and using it. Its aim is to establish globally cutting-edge, highly efficient, low-cost technology to produce hydrogen, toward the commercialization of water electrolysis.
According to the Hydrogen and Fuel Cell Strategy Division of the Office of the Agency for Natural Resources and Energy (ANRE), "The massive-scale introduction of renewable energies means that surplus electricity will be generated at all times, necessitating ways to adjust and make good use of it. The potential for uses of hydrogen is great."
That potential of the use of hydrogen produced at FH2R will be highlighted at the Tokyo Olympics (assuming that they are held as scheduled), raising awareness of Japanese technology. It is slated to be used in the two Olympic cauldrons, in some of the relay torches carried in Fukushima, Aichi and Tokyo, in five hundred Olympics-related fuel cell vehicles (FCVs), and in stationary fuel cell systems in the Olympic Village.
FCVs offer similar performance to gasoline-powered vehicles. Compared with electric vehicles (EVs), they offer a longer range (500km or more), shorter charging times are shorter (three minutes), and only water is emitted as their operating exhaust.
The March 7 opening ceremony at FH2R was attended by Prime Minister Shinzo Abe, relevant ministers, Governor Masao Uchibori of Fukushima Prefecture, and others.
Prime Minister Abe, after visiting Futaba Station on the Joban Line, which was returned to full operation on March 14, and after taking part in the opening of the Joban Futaba Interchange on the Joban Expressway, cut the tape and toured the inside of FH2R. He then said, "The thoughts of the affected for their homes is moving reconstruction ahead steadily," adding, "With eyes on the future, we will make a new Fukushima."