15 May, 2017
Nuclear Siting Municipalities' Meeting Was Held in Tokyo
On May 9, a general meeting was held in Tokyo by the All Japan Council of Local Governments with Atomic Power Stations, a group set up in 1968. The council is currently chaired by Mayor Takanobu Fuchikami of Tsuruga City, Fukui Prefecture.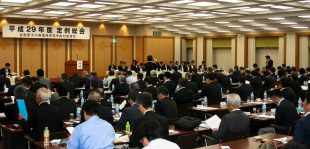 At the meeting, the members adopted a 75-item written request on various issues, including nuclear policy and siting area policy. Thereafter, a session was held for the heads of hosting municipalities to exchange views with governmental officials.
During the meeting, Mayor Masahiro Sakurai of Kashiwazaki City (Niigata Prefecture)—which hosts the Kashiwazaki Kariwa Nuclear Power Plants (seven units), owned and operated by the Tokyo Electric Power Co. (TEPCO)—spoke of his concern that the government would not be able to carry out "effective" evacuation plans despite always saying that it will do so.
His comment stemmed from an incident last year in which a road designated for evacuation use in nuclear emergencies had remained congested for many hours during a heavy snowfall. He asked for the government to develop special evacuation roads.
In response, the person responsible for nuclear emergency preparedness in the national government's Cabinet Office said that funds had been newly allocated in the current fiscal year (April 2017 to March 2018) to investigate evacuation routes. He added that the government would work to enhance evacuation plans, placing priority on regional safety.
Warning the government, the mayor responded by saying, "Given that the safety examinations of the Kashiwazaki Kariwa NPPs by the Nuclear Regulation Authority (NRA) are in their final stages, and that municipalities will be asked to approve the NPP restarts sooner or later, our residents will not be convinced just by being told that 'investigations on evacuation roads will be conducted'."
The other official to speak up at the recent meeting was Mayor Hiroshi Nakatsuka of Ohi Town (Fukui Prefecture), who queried about the government's stance concerning recent legal actions over NPPs. In response, a representative of the Ministry of Economy, Trade and Industry (METI) said that the key elements were efforts by operators to voluntarily improve plant safety, as well as to make explanations to residents. He added that the current Abe government would support the operators in their efforts.
Mayor Osamu Yamada of Tokai Village (Ibaraki Prefecture) pointed to the deterioration of many nuclear research facilities in his village, and stressed the importance of human resource development. An official from the Ministry of Education, Culture, Sports, Science and Technology (MEXT) said in response that practical training was essential in fostering human resources. He expressed his ministry's intention to endeavor to deal with the new regulatory standards established for NPPs nationwide following the Fukushima Daiichi accident, toward the restart of research reactors.