8 March, 2017
Head of Town Hosting Genkai NPPs Agrees to Restarts; Decision Now Up to Governor
On March 7, Mayor Hideo Kishimoto of Genkai Town, Saga Prefecture, site of the Genkai Nuclear Power Plants (total four units), owned and operated by the Kyushu Electric Power Co., conveyed his decision to President Michiaki Uriu of the power utility to agree to restarting Units 3 and 4 of the facility.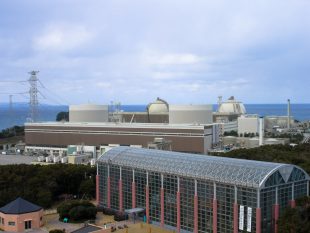 Prior to that, the Genkai Town Assembly had voted in favor of the restarts. Getting the agreement of both the prefecture and local municipalities is a condition for restarting the units, and attention now shifts to what Saga Governor Yoshinori Yamaguchi will do.
In January, Genkai-3 and -4 (PWR, 1180MWe each) both cleared examination by the Nuclear Regulation Authority (NRA) for compatibility with new regulatory standards. On February 24, a majority of the Genkai Town Assembly voted in support of resuming the operation of the reactors.
Mayor Kishimoto seemed to feel that sufficient understanding had been obtained from the residents after explanatory meetings hosted by Saga Prefecture, which had been held at five locations prior to March 3.
Regarding the local agreement—prerequisite to restarting both units—Governor Yamaguchi intends to hand down his decision after hearing a wide range of opinions. On March 18, he will meet with all the municipal heads of the prefecture to hear their views directly.
Each of the Genkai NPPs had ceased operation by December 2011. In March 2015, Kyushu Electric Power decided to decommission the oldest unit of the four:Genkai-1 (PWR, 559 MWe).