9 November, 2015
Helmet-like PET Detector Useful for Early Diagnosis of Dementia
On November 5, Japan's National Institute of Radiological Sciences (NIRS) and ATOX Co., Ltd., of Tokyo announced their development of the world's first helmet-like PET (positron emission computerized tomography) system to form images of minute amounts of protein inside the brain. The device is expected to contribute to the early diagnosis of dementia.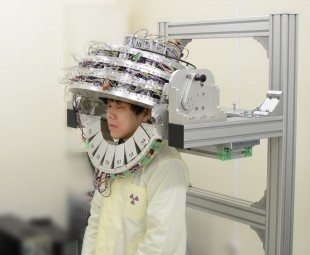 NIRS developed three-dimensional radiation depth-of-interaction (DOI) detectors, placed hemispherically within the device, for increased sensitivity and resolution during the imaging of minute amounts of causal protein in the brain during the pre-dementia stage, as conventional whole-body PET systems lack such a capacity.
For better sensitivity, detectors need to be closer to the object being measured, though that normally worsens the image resolution. NIRS and ATOX researchers created a DOI detector system with the detectors arranged in a hemispherical helmet-like structure (with an inner diameter of 25cm and an outer diameter of 50cm). That arrangement maintains good image resolution even when close to the subject.
Additionally, arranging the detectors at the jaw in the manner of an exaggerated chinstrap enhances sensitivity in the brain core area. DOI detectors can detect proteins accurately regardless of the incident angle of radiation, enabling the helmet-shaped arrangement.
The new device is three times more sensitive than conventional types, but with only one-fifth the number of detectors, reducing its cost and size. That makes it more convenient for seated examinations—hence more suitable for the large number of facilities that have limited space.