31 March, 2017
Hiroshima District Court Allows Operation of Ikata-3
On March 30, the Hiroshima District Court rejected a request filed by an anti-nuclear group in Hiroshima for a temporary injunction seeking a halt to the operation of the Ikata-3 Nuclear Power Plant (PWR, 890MWe), owned and operated by the Shikoku Electric Power Co. in Ikata Town, Ehime Prefecture. Hiroshima lies on the opposite shore from Ehime on the Seto Inland Sea.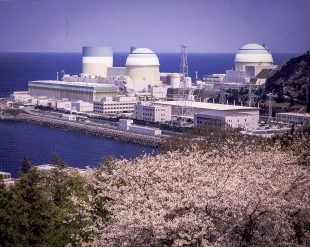 The move follows a March 28 ruling by the Osaka High Court allowing the operation of the Takahama-3 and -4 NPPs, owned and operated by the Kansai Electric Power Co. (Kansai EP).
Anti-nuclear groups had filed requests for temporary injunctions against Ikata-3 with the Matsuyama and Oita District Courts, as well as the Iwakuni Branch of the Yamaguchi District Court. The ruling by the Hiroshima District Court was the first decision among those to be made.
In the hearings so far, anti-nuclear local residents have asserted that Shikoku Electric Power's assumptions about earthquakes and tsunami were insufficient, and that residents of Hiroshima would suffer from serious health damage if a severe accident occurred at the plant.
Shikoku Electric Power responded that it had implemented safety measures in compliance with the new regulatory standards issued by the Nuclear Regulation Authority (NRA), and that it had passed the NRA's safety examinations. The power utility also argued that its actions were "based on the latest scientific knowledge, so safety is secure."
Shikoku Electric's only nuclear facility is the Ikata Nuclear Power Station (3 PWRs). Ikata-3 passed the NRA's safety examination in July 2015, and resumed operation in August 2016. The power utility has already decided to decommission Unit 1, but has not rendered a decision yet on the future of Unit 2.
Various courts in Japan have reached different conclusions on requests for temporary injunctions halting operation of NPPs. The Fukui District Court and the Otsu District Court had both ruled to halt the operation of Takahama-3 and -4 in April 2015, March 2016 and July 2016. Those injunctions were lifted after hearings of objections at a district court, and after appeals to a high court.
Meanwhile, in April 2015 and April 2016, respectively, the Kagoshima District Court and the Miyazaki Branch of the Fukuoka High Court both refused to block operations at the Sendai NPPs, owned and operated by the Kyushu Electric Power Co., in Satsumasendai City, Kagoshima Prefecture.