23 September, 2020
Hitachi to End Business Operations on UK Nuclear Power Project
On September 16, Hitachi, Ltd., announced that it would end business operations on a multi-billion-dollar project to construct nuclear power plants (NPPs) in the United Kingdom. It made the decision considering that twenty months had already elapsed since the project was suspended in January 2019, and also because the investment environment has "become increasingly severe" due to the impact of COVID-19.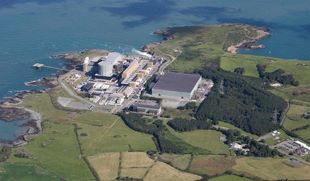 In the project, Horizon Nuclear Power Limited in the UK— acquired by Hitachi in 2012 from the German power companies E.On and RWE—were to develop a nuclear power station (NPS) comprising two UK Advanced Boiling Water Reactor (ABWR) units (1,350 MW each) at Wylfa Newydd in Anglesey, located in northwest Wales. After Hitachi underwent a generic design assessment (GDA) and obtained approval from UK regulators to deploy the UK ABWR in the country, it started negotiating with the national government on a financing model and other issues toward realizing the project, but failed to reach an agreement in the end. In January 2019, then, Hitachi decided to freeze the project from the viewpoint of economic rationality.
Because of the decision to withdraw from the project, Hitachi will now coordinate with the UK government and relevant organizations regarding the handling of the planned construction sites, future cooperation, and other matters. The decision is expected to have only a minor effect on Hitachi's business results, however, because it had already posted, due to the suspension of the project, an impairment loss and other expenses totaling JPY294.6 billion (USD 2.8 billion at USD1=JPY104.77) in its consolidated financial results for fiscal 2018, the year ended March 31, 2019.
With the focus in Japan currently on restarting and decommissioning NPPs, there are concerns in the Japanese nuclear industry about maintaining technological capabilities in both designing and constructing NPPs. Last year, Hitachi President Toshiaki Higashihara expressed a sense of crisis upon the decision to freeze the UK project, particularly in regard to securing nuclear human resources for the future, saying, "We should discuss the matter with other manufacturers and come to a conclusion as quickly as possible." Japan's White Paper on Nuclear Energy 2019, issued last month, treated the development of nuclear human resources in a section on overseas topics, in which it pointed out the importance of maintaining knowhow and accumulating experience in plant construction. As points of comparison, it cited the situation in China, where the construction of new plants is proceeding, as well as those in Europe and North America, where there have been delays.