4 June, 2015
IAEA Management School Opens in Tokyo
On June 1, a ceremony was held to mark the opening of the Japan-IAEA Joint Nuclear Energy Management School at the University of Tokyo.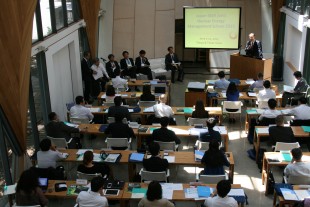 The three-week program is designed to foster young leaders who will contribute to the issuance of nuclear development programs in their home countries and manage them in the future.
Some 35 students from 14 countries — Bangladesh, China, the Czech Republic, Egypt, Indonesia, Kazakhstan, Lithuania, Malaysia, Poland, Saudi Arabia, Thailand, Turkey, Vietnam and Japan — will attend lectures, take part in group discussions and go on technical tours until June 17.
Professor Mitsuru Uesaka of the Nuclear Professional School, the University of Tokyo, emphasized, "It is particularly important for young leaders from emerging nuclear countries to visit nuclear sites on technical tours."