15 November, 2019
IAEA/RCA Symposium: Cooperating with Developing Countries Through Nuclear Science and Technology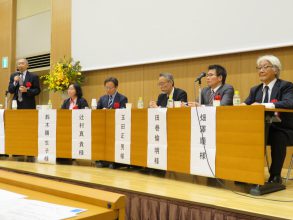 On November 11, a symposium was held at the University of Tokyo's Hongo Campus to deepen the understanding of international activities carried out by the International Atomic Energy Agency (IAEA) in cooperation with developing countries under the Regional Cooperative Agreement for Research, Development and Training Related to Nuclear Science and Technology (RCA). Some 140 people participated in the symposium this time.
Under the RCA, various cooperative activities have been carried out for developing countries in the Asia-Pacific region since 1972, involving joint research, development and the technological transfer of nuclear science and technology.
Under the initiative of Dr. Takashi Nakano, honorary professor of Gunma University and chairman of the Japanese nonprofit Organization for International Cooperation in Radiation Medicine, and who has long been involved in RCA activities, the November 11 symposium was planned as a venue for Japanese specialists and experts to introduce projects in the areas of agriculture, medicine, environment and industry for discussion.
At the start of the symposium, opening greetings were delivered by Asako Omi, Japan's parliamentary vice-minister for foreign affairs, and Koichiro Matsumoto, director of the International Nuclear Energy Cooperation Division of Japan's Ministry of Foreign Affairs.
A message was then read from IAEA Deputy Director Dazhu Yang, who referred to Atoms for Peace and Development as the legacy of the late Director General Yukiya Amano, who died in July. Looking back on the history of the RCA since its creation forty-seven years ago, Yang said in his message that as one of the IAEA's activities, RCA had contributed greatly to the socioeconomic development of the Asia-Pacific region. He then praised Japan's RCA activities as an "important international contribution effectively using national resources," adding that the IAEA intended to continue its support for them.
Next, presentations were delivered by experts from four fields on various RCA projects, activities and results, as follows:
・(Medicine) Associate Professor Tomoaki Tamaki of Fukushima Medical University, and Professor Jun Hatazawa of Osaka University Graduate School of Medicine.
・(Industry) Dr. Masao Tamada of Japan's National Institute for Quantum and Radiological Science and Technology (QST).
・(Agriculture) Dr. Yaeko Suzuki of Japan's National Agriculture and Food Research Organization.
・(Environment) Professor Maki Tsujimura of the University of Tsukuba, and Professor Wataru Kada of Gunma University.
In his presentation in the medical field, Tomoaki Tamaki said that the incidence of cancer throughout all of Asia would increase by 65 percent by 2040. He stressed the importance of fostering radiation therapy specialists and experts through RCA projects, and spoke of the gathering of radiotherapists in 2015 to establish the Federation of Asian Organizations for Radiation Oncology (FARO).
The agriculture-related presentation was given by Yaeko Suzuki, who is working to develop a method to determine the origin of particular samples of rice by analyzing their isotopes. She expressed concern for the food situation in developing countries, saying, "Although rice is a typical crop in Asia, we are increasingly seeing it being sold both here and in Africa mixed with plastics so as to increase its volume. Also, the pesticide residue in rice goes beyond established levels for food." She emphasized the importance of furthering technological development for greater safety and reliability.
In his environment-themed presentation, Maki Tsujimura, who analyzes isotopes to study groundwater epochs and paths, said that it was necessary to understand environmental forms to preserve sources of water. He suggested that isotope analysis could contribute to securing water resources in dry areas, as well as to the clarification of the origins of oases, thus providing solutions to water conflicts between countries over the rivers demarcating their borders.
The symposium then moved to a panel discussion, moderated by Shigeyuki Koide, a director of the Japanese Association of Science and Technology Journalists. After listening to the presentations, he made the following comment based on his extensive experience reporting overseas: "RCA projects have had significant impact, so I wonder why they haven't been taken up more widely by the media." He also stressed the significance of international cooperation focused on radiation use, adding that the usage of such terms as nuclear power and radiation—and even just the word "nuclear"—often interferes with an understanding of their usefulness.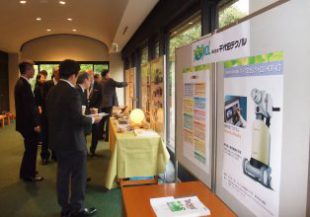 In response to that, QST's Masao Tamada noted that ordinary people insufficiently understood the so-called radiation breeding of agricultural products, and also emphasized the importance of collaborating with end users. Meanwhile, Tomoaki Tamaki, who has been involved in RCA projects since his undergraduate years, said that he wanted to use such activities to project the image of "Japanese diligence." On the other hand, Jun Hatazawa, who has worked on developing human resources for doctors specializing in radiation therapy, said that RCA projects were important insofar as enabling people to develop connections.
At the end of the panel discussion, all of the participants spoke of their high expectations for future RCA activities.
Meanwhile, there were also several poster exhibitions held at the symposium site, sponsored by fourteen organizations, and providing many opportunities for visitors to ask questions and vigorously interact with the representatives.