31 July, 2015
IRID Holds Symposium in Fukushima on Technological Development
On July 23, the International Research Institute for Decommissioning (IRID) held a symposium in Fukushima City presenting the current status and results of decommissioning technology being developed for the Fukushima Daiichi Nuclear Power Plants, ruined in the tsunami of March 11, 2011.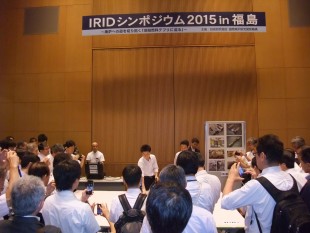 Following reports by engineers on current R&D projects at IRID, presentations were made using panels and videos of technology mainly for the detection, removal, transport and storage of melted fuel debris before actual operations take place. A robot was also demonstrated that is similar to that used for investigations inside the reactor containment vessel.
At the symposium, President Naohiro Masuda of the Fukushima Daiichi Decontamination & Decommissioning Engineering Company of the Tokyo Electric Power Co., which owns the reactor complex, also explained the current status of the four units at the site. He touched upon the issues affecting each reactor, as well as countermeasures being taken for contaminated water, activities to improve the reliability of piping and tanks, and the working environment.
The removal of fuel debris at Fukushima Daiichi is expected to start in 2021, according to the recently revised mid-to-long-term roadmap toward the decommissioning of the complex. Masuda said that he expected that his firm would take care of the following activities before then:
Develop difficult technology in collaboration with various companies with particular strengths.
Develop needs-oriented technology in response to the special circumstances at the worksite.
Pursue those and other technological developments with a commitment to safety and certainty, rather than speed.
He also said that the roof panels from spent fuel pools at Unit 1 would begin to be removed as early as next week, following the removal of the same kind of panels at Unit 4.
The robot demonstration at the symposium featured a prototype model of a shape-changing robot, developed by Hitachi GE Nuclear Energy, used for on-site demonstration tests to investigate the interior of the Unit 1 containment vessel (CV). As the robot was being maneuvered over a ditch-cover grating, visitors took its pictures, later asking questions.
After the symposium, IRID President Hirofumi Kenda met with a group of reporters, telling them that holding the symposium in Fukushima was important in enhancing public understanding, noting that distributing pamphlets, carrying out presentations using panels, and holding exhibits were all effective. He did add, however, that his organization would continue to consider ways to "improve information dissemination."