6 March, 2017
JAEC Discusses Basic Concept on Nuclear Energy Use, Focusing on Safety Activities Based on Non-zero Risk
On February 28, the Japan Atomic Energy Commission (JAEC) discussed a draft outline focusing on safety activities in relation to matters to be included in the "Basic Concept on Nuclear Energy Use." It also talked about domestic and overseas activities in the backdrop of globalization.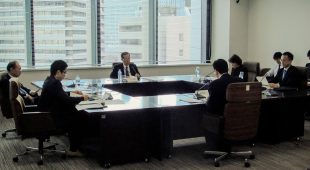 At an earlier JAEC meeting on February 17, the basic targets of nuclear policy to be included in the basic concept were proclaimed to be the use of nuclear energy to improve people's lives on the premise of ensured safety, and the promotion of the use of nuclear energy amidst globalization.
At the February 28 meeting, JAEC set forth the premise of non-zero risk for safety activities, enumerating five points to be promoted:
Promoting recovery and restoration at Fukushima after the nuclear accident of 2011, and using the lessons learned from it.
Preventing severe accidents and reducing their effects.
Improving structural factors affecting safety, as well addressing the closed nature of organizations.
Shifting away from regulative safety measures to preventive ones that are effective, considering as well voluntary safety efforts by operators to improve safety.
Preventing and reducing disasters, with a focus on reducing health hazards.
In December 2016, JAEC presented its views on the use of light-water reactors (LWRs). Regarding voluntary efforts made by operators to improve safety, the organization said at that time that the shift from regulative to preventive methods could be realized if all stakeholders shared the same recognition, referring to successful examples in the United States, and noting the need to establish risk management.
JAEC Chairman Yoshiaki Oka began the February 28 meeting by looking back at earlier hearings, at which various experts and specialists addressed the basic concept of nuclear use. He especially highlighted the contributions of two men: Prof. Yotaro Hatamura, chair of the Japanese government's Investigation Committee on the Fukushima Daiichi Accident, and Prof. Kiyoshi Kurokawa, chair of the National Diet of Japan Fukushima Nuclear Accident Independent Investigation Commission (NAIIC).
Considering the points to be reflected upon in various accident investigation reports, Chairman Oka then stressed the importance of thoroughly analyzing fundamental causes and dealing with them.
Regarding domestic and overseas activities amidst globalization, the draft states the importance of maintaining compatibility with global standards and promoting cooperation and collaboration both within Japan and with foreign entities.
In addition, it restates that Japan, as the only country to experience an atomic bombing, is in a "unique position to contribute to promoting nuclear disarmament, nonproliferation and the peaceful uses of nuclear power."
The draft also mentions the importance of maintaining transparency in the use of plutonium and of making proper explanations to the international community.