19 December, 2018
JAEC Discusses Results of IFNEC's November Meeting in Japan
At the most recent regular meeting of the Japan Atomic Energy Commission (JAEC), held on December 11, reports were heard on proceedings of the ministerial-level executive committee of the International Framework for Nuclear Energy Cooperation (IFNEC) that had met in Japan from November 12 to 15.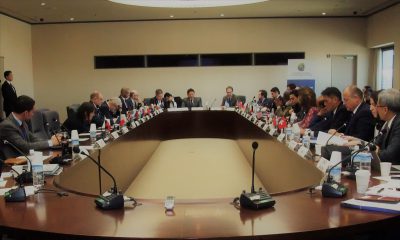 The IFNEC was launched in 2010 by the Global Nuclear Energy Partnership (GNEP), created under a proposal by the United States. Currently composed of thirty-four member countries, along with several observer countries and international organizations, the IFNEC is a forum to explore mutually beneficial approaches to ensure that the expansion of nuclear energy for peaceful purposes proceeds in a manner that is efficient, safe, secure, and supports nonproliferation and safeguards.
The IFNEC executive committee meets annually, with Japan having chaired the 2018 meeting held in November. Some sixteen member countries participated, along with five observer countries and four international organizations. Representing Japan was Takuya Hirai, minister of state for science and technology policy within the Cabinet Office, who gave a welcome address. Chairman Yoshiaki Oka of JAEC then made a keynote presentation.
At the JAEC meeting on December 11, Chairman Oka talked about the global energy and environmental situations, along with the history of light water reactor (LWR) technology, as he had in his keynote presentation the month before. He then introduced a new textbook on nuclear energy produced for professional education in Japan.
He also expressed his hopes that IFNEC would serve as an effective international network.