19 April, 2016
JAIF Annual Conference 2016 Successfully Held
JAIF would like to express our deepest appreciation to those who attended the 49th Annual Conference titled "Energy for Us – Embracing Our Energy for a Better Future" at the Tokyo International Forum on April 12-13, 2016, which turned out to be a great success.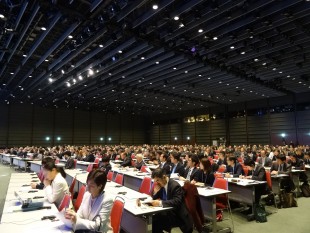 A total number of 852 participants from 30 countries/region and 3 international organizations gathered for the two-day event to reconfirm the value of nuclear energy and tackle current global energy challenges in the search for solutions for a more sustainable world.
All presentation papers with prior consent from the speakers are now available for download at https://www.jaif.or.jp/49th-annual/en/programme/.
The commemorative 50th JAIF Annual Conference is scheduled to take place on April 11-12, 2017. We look forward to welcoming even more guests next year to join the biggest celebration of the Japanese nuclear industry.