24 April, 2017
JAIF Annual Report: 439 NPPs Now Operating Worldwide, with a Capacity of 406GWe
The Japan Atomic Industrial Forum, Inc. (JAIF) has issued its annual report on the worldwide situation for nuclear power, entitled "The World Nuclear Power Plants 2017." This year's report is compiled from data current as of January 1, 2017, coming from responses to questionnaires sent out to power utilities and other companies around the world.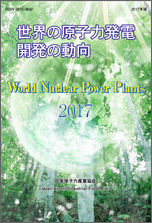 Second Consecutive Yearly Record for Total Amount of Electricity Generated by NPPs
As of January 1, 2017, there were 439 nuclear power plants operating worldwide, with 406GWe of capacity, representing the second year in a row that a new record was set.
Looking at major developments throughout the world in 2016, the Watts Bar-2 reactor in the United States began commercial operation, that country's first new NPP in two decades. China commissioned five NPPs and launched construction of three more. South Korea commissioned one NPP, while Pakistan launched construction of one NPP. Asia thus continued its remarkable development of nuclear power in 2016, particularly China, which released its 13th five-year plan for power production, setting a NPP capacity target of 58GWe by 2020.
Russia and China saw marked progress in their development of fast reactors. Russia began commercial operation of the BN-800 fast reactor, and is making progress in its plans for the BREST-300 lead-cooled fast reactor demonstration unit. Meanwhile, China is proceeding with a plan to construct its independently-developed CFR-600 fast demonstration reactor.
The United Kingdom saw significant steps forward in its Hinkley Point C project, which has been the focus of attention as the first new NPP to be built in that country in two decades. Prime Minister Theresa May gave the conditional go-ahead for the plan after the board of directors of Electricité de France (EDF), a French power utility, finally decided to invest in the NPP, leading to the conclusion of the final agreement.
In 2015, France passed the Energy Transition for Green Growth Act, which includes reducing the country's nuclear share of electricity generation to fifty percent. The French Nuclear Safety Authority (ASN), meanwhile, promulgated a new ordinance on safety regulation, after which the country took steps to reflect the new act in nuclear safety regulation.
Meanwhile, in the United States, although one NPP was shut down earlier than planned because it became economically less competitive, nuclear operators expressed their intention to apply again for two-decade extensions of the operating lifetime for two other NPPs. If accepted, that would result in eight decades of permitted service for each. Analyses were published in the United States showing that CO2 emissions would increase if existing NPPs were closed early, spurring moves for existing reactors to be used longer.
More than three decades have passed since the Chernobyl accident of 1986, but fifteen reactors still provide nearly half of all Ukraine's total generated electricity, demonstrating the continued importance of nuclear power in that country. Current plans call for eleven of those units to be operated for more than three decades.
Commercial Operation of First New American Reactor in Two Decades; China Maintains Fourth Place in World NPP Capacity Ranking
A total of 439 NPPs, generating 406,001MW of electricity, were operating worldwide as of January 1 of this year. That represented five more units and 7,135MWe greater capacity than the year before. Eight NPPs began commercial operation between January 2, 2016, and January 1, 2017, five of which were in China, and one each in the United States, Russia and South Korea. During the same period, the United States, Russia and Japan each shut down one reactor, resulting in a net increase of five NPP units operating worldwide.
The Watts Bar-2 reactor began commercial operation in the United States during the year under review, marking the first time in two decades that a new reactor had started in that country. In China, meanwhile, the Ningde-4, Changjiang-2, Hongyanhe-4, Fuqing-3 and Fangchenggang-2 all began commercial operation, bringing the total of NPPs operating in that country to thirty-five, with a capacity of 33,493MWe. That kept China in fourth place worldwide in terms of NPP capacity, the same as in 2016. The Shin-Kori-3, the world's first APR1400, began commercial operation in South Korea as that country's 25th commercial reactor. In Russia, the Beloyarsk-4 and the Russian BN-800 demonstration fast reactor both began commercial operation.
Three reactors worldwide were also newly connected to the grid during the year, namely, India's Kudankulam-2, Pakistan's Chashma-3, and Russia's Novovoronezh-II-1, the latter representing that country's first generation-III reactor.
Reactors that were shut down in 2016 included the following: (1) Russia's Novovoronezh-3, commissioned in 1972 as the first VVER-440 reactor, (2) Fort Calhoun-1 in the United States, which had operated for 43 years since 1973, and (3) Japan's Ikata-1.
Four NPPs Start Construction in Two Asian Countries
Worldwide, construction started on four NPP units in 2016, representing a combined capacity of 3,397MWe.
Of the four units whose construction was launched, three were in China and one was in Pakistan. The three Chinese units were as follows: (1) the Fangchenggang-4, which uses a Hualong One-type reactor, a generation-III Chinese proprietary design, (2) the Tianwan-6, a generation-III PWR (ACP1000), and (3) the ACPR50S offshore demonstration reactor (60MWe). The Pakistani unit was the Karachi-3; as it does not require any civil engineering work, the conclusion of the contract to purchase a reactor vessel was deemed the official start of its construction.
Four New Construction Projects Announced in China and Russia; Total of 98 Planned Projects Globally, for About 111.2GWe
A total of ninety-eight NPP construction projects are being planned worldwide, representing a total capacity of 111.164GWe. In 2016, two countries (China and Russia) drew up plans to construct four new NPPs, for a total capacity of 3,200MWe. Elsewhere, three NPPs formerly in the planning stage started to be constructed. On the other hand, Vietnam's National Assembly passed a resolution canceling a project to build four NPPs, so those were consequently removed from the total number of reactors in the planning stage.
The result was a net of three fewer planned units worldwide than one year earlier, for a 4,937MWe reduction in capacity. Meanwhile, the four NPPs newly announced in the category of NPPs being planned were China's Zhangzhou-1 and -2 and the CFR-600 demonstration fast reactor, as well as Russia's Brest-300 lead-cooled demonstration fast reactor.
For further information, please contact at doukou@jaif.or.jp