11 May, 2018
JAIF, KAIF Hold Joint Forum on Nuclear Power Plant Safety and Decommissioning, Sharing Latest Knowledge and Information
On May 8 in Tokyo, the Japan Atomic Industrial Forum (JAIF) and the Korean Atomic Industrial Forum (KAIF) staged the JAIF-KAIF Joint Forum on Nuclear Power Plant Safety and Decommissioning. Some two hundred people participated from both countries.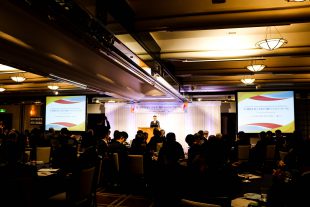 In his opening address, KAIF Executive Vice President Jae-yuel Kang emphasized the significance of the forum in that it was being held by Japan, with its decommissioning experience, and Korea, whose first decommissioning—that of the Kori-1 Nuclear Power Plant (PWR, 587MWe)—is to be launched this year. He declared enthusiastically that Korea would endeavor to apply its technology in decommissioning activities overseas.
JAIF President Akio Takahashi expressed confidence that the latest knowledge and information shared through the forum would promote further cooperation, not just in light of the increasing importance of NPP safety measures, but of aging management and decommissioning as well.
Minister Ungyu Paik of the Korean Ministry of Trade, Industry and Energy (MOTIE), invited as a special guest, explained that the top priority in Korea's energy policy was shifting from economic efficiency to obtaining public understanding on safety. The Japanese, he said, are fond of the saying, "Two heads are better than one," while the similar Korean expression is "Working together is always better." He stressed that decommissioning, too, could be carried out more efficiently through cooperation between Korea and Japan.
Deputy Commissioner Shin Hosaka of the Agency for Natural Resources and Energy (ANRE), under Japan's Ministry of Economy, Trade and Industry (METI), said that the restoration of Fukushima, decommissioning and the contaminated water management project were all issues of the highest priority. He explained that the surrounding sea areas—where no increases in radioactive concentration have been seen—was safe, and he asked Korea for its understanding on that. He then noted that Japan has been working on revisions to its Strategic Energy Plan since August 2017. Although there were some people severely opposed to nuclear power, he said, he was confident that Japan would squarely respond to people's concerns with unified public-private efforts to deal with the various issues steadily.
In his presentation, Director General Janghwan Na of the Safety Technology Center of the Korea Hydro & Nuclear Power Central Research Institute (KHNP-CRI) explained improvements to safety at multi-unit nuclear power stations in Korea, particularly emergency measures to ensure that power is not lost. In addition to existing facilities and equipment, the new emergency measures to secure power sources include portable sources, and means to ensure power for entirety of a site, rather than for individual NPPs.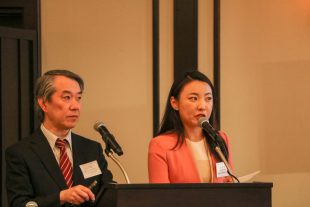 Executive Vice President Naohiro Masuda of TEPCO Holdings talked about the current situation at the Fukushima Daiichi NPS. He reported that Units 1 to 4 had been maintained in states of cold shutdown, and that radioactive concentrations in seawater had been found to have fallen to levels of 1/100,000th to 1/1,000,000th of what they had been immediately after the accident. He stressed that the power utility would responsibly work on decommissioning, while disseminating information to the local and international communities and carefully explaining matters of concern.
Senior Vice President Jungmoo Yu of the NPP Decommissioning Business Department at KEPCO Engineering & Construction Inc. (KEPCO E&C) outlined the plan for decommissioning the Kori-1 NPP, with all the processes—including environmental reconstruction—to be completed by the end of 2032. According to the plan, the characteristics of the decommissioning site will be evaluated and the extent of contamination identified. He also explained the outlook for a radioactive waste disposal facility.
Deputy Secretary General Yoshihiro Tomioka of the Federation of Electric Power Companies (FEPC), who also serves as director, said that restarting  NPPs as early as possible and extending the operating lifetimes and replacements for aged NPPs are all essential in addressing the energy mix from the viewpoints of self-sufficiency, power costs and greenhouse gas emissions, with priority on ensuring safety, He said that this summer, a new organization would be established by the Japanese nuclear industry to effectively issue safety measures and introduce them at worksites.