20 July, 2018
Japan-IAEA Joint Nuclear Energy Management School Opens for 2018, Developing Next Generation of Young Professionals
On July 17, this year's Japan-IAEA Joint Nuclear Energy Management (NEM) School opened at the University of Tokyo. The school is designed to foster nuclear management capabilities—an understanding of such areas as nuclear policies and regulations, as well as the planning and managing of projects—among the next generation of young professionals in Japan and elsewhere. It is held annually under the leadership of Japan, co-sponsored by the International Atomic Energy Agency (IAEA).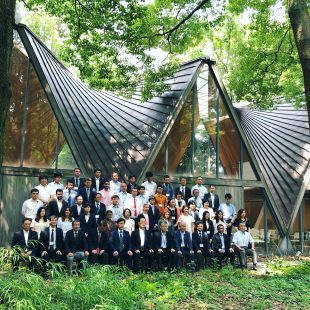 This year, 26 students are participating from thirteen countries: Bangladesh, Brazil, Bulgaria, China, Czechia (Czech Republic), Kazakhstan, Malaysia, Poland, Saudi Arabia, Thailand, Turkey, Vietnam and Japan. 8 of the total are Japanese.
The program will run for about three weeks, lasting until August 2. Until July 20, the initial stage will primarily comprise lectures related to energy strategy, nuclear nonproliferation, safety culture and decommissioning.
From July 23 through 27, then, the group will move to Fukushima for technical tours of the Fukushima Daiichi and Fukushima Daini Nuclear Power Plants and the Naraha Remote Technology Development Center in Naraha Town. Participants will also meet with students at the National Institute of Technology, Fukushima College.
On August 30, finally, they will return to Tokyo, where, they will summarize and recap what they have learned through group discussions and presentations in the style of scenario planning. Each will then receive a certificate of completion.
At the opening ceremony on August 17, welcoming comments were first made by representatives of the IAEA, the faculty of engineering of the University of Tokyo and others.
After that, special guest Deputy Minister Hiroshi Masuko of the Japanese Ministry of Education, Culture, Sports, Science and Technology (MEXT) spoke about the importance of nuclear human resource development, citing the need for creation of global human networks and referring to utilization of research reactors at Kinki and Kyoto Universities, both of which had cleared safety examinations under the new regulatory standards.
Also to speak at the ceremony was President Akio Takahashi of the Japan Atomic Industrial Forum (JAIF), who concurrently chairs the operating committee of the Japan Nuclear Human Resource Development Network (JN-HRD Net). He told the students that he was sure that they would learn much at the management school, adding his hope that those from overseas would enjoy their stay in Japan. He underscored the significance of the school, saying that human resource development was one of most important issues in the nuclear field.
The opening ceremony ended with the taking of a group photograph, and was followed by a lecture by Chairman Yoshiaki Oka of the Japan Atomic Energy Commission (JAEC), which kicked off the three-week educational program.