26 November, 2015
Japan-India Nuclear Cooperation Agreement
To Be a Contribution to the World through the Peaceful Use of Nuclear Energy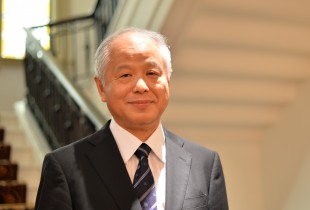 It has been reported that a schedule is being finalized so that Prime Minister Shinzo Abe may visit India in mid-December and have talks with Indian Prime Minister Narendra Modi. It is expected that among other things they will discuss a nuclear cooperation agreement between India and Japan. In September 2014, the two prime ministers signed the Tokyo Declaration for a Japan-India Special Strategic and Global Partnership. Strengthening the Japan-India cooperative relationship in a broad range of areas including nuclear power is expected to contribute not only to the prosperity of both countries, but to stability and development in the Asian region.
As the Indian economy grows, energy demand is expected to increase substantially. In anticipation, the country plans to increase the current nuclear capacity of 5,780MWe (21 reactors) to 63,000MWe by 2032, equivalent to 9% of installed gross capacity. India has high hopes for Japan's technological capabilities in helping it introduce large-size light water reactors (LWRs).
Cooperation with India in the field of nuclear energy is significant for Japan in the following respects:
As the world's third largest CO2 emitter, India greatly affects global issues of energy and the environment. Japan's cooperation in India's plan to expand nuclear power generation would help mitigate resource acquisition competition and the worsening global warming issues the world faces today.
Through a long history and decades of experience constructing, operating and maintaining nuclear power plants, Japan has a supply chain enabling it to provide high-level technology and high-quality products. Based on the lessons learned from the accident at the Fukushima Daiichi Nuclear Power Station, Japan is continuing its effort to improve safety. With such technology and products, Japan will be able to contribute to further improving the safety of Indian nuclear power plants.
Entry into the Indian market where rapid economic growth can be expected hereafter will not only help revitalize Japan's industries, but will also maintain/improve nuclear technology and develop and ensure nuclear human resources.
Because India has not signed the Treaty on the Non-Proliferation of Nuclear Weapons (NPT) and because it conducted a nuclear test in 1974, it has not been able to obtain nuclear cooperation internationally and had carried out its nuclear development by itself. In 2005, however, the U.S. took action to include India in the international nuclear non-proliferation regime. The U.S. then decided to promote nuclear cooperation with India under conditions of a nuclear test moratorium, application of IAEA's safeguards to civil nuclear facilities, observance of guidelines of the nuclear supply group (NSG) and more. Since 2008 when, with the participation of 45 countries, the NSG approved nuclear cooperation with non-NPT India, the U.S., France, Russia, Canada, South Korea, Australia, Kazakhstan and others have concluded nuclear cooperation agreements with India, and Japan is now negotiating to do so. In light of the significance of nuclear cooperation with India, we hope the Japanese government will conclude an agreement as soon as possible for securing the peaceful use of nuclear energy.
We, the Japan Atomic Industrial Forum, continue our efforts to resolve common issues, including safety improvements, and to contribute to international development of the Japanese industry through bilateral and multi-national cooperation – making a contribution to the world with Japan's nuclear technology.
Akio Takahashi, President, JAIF